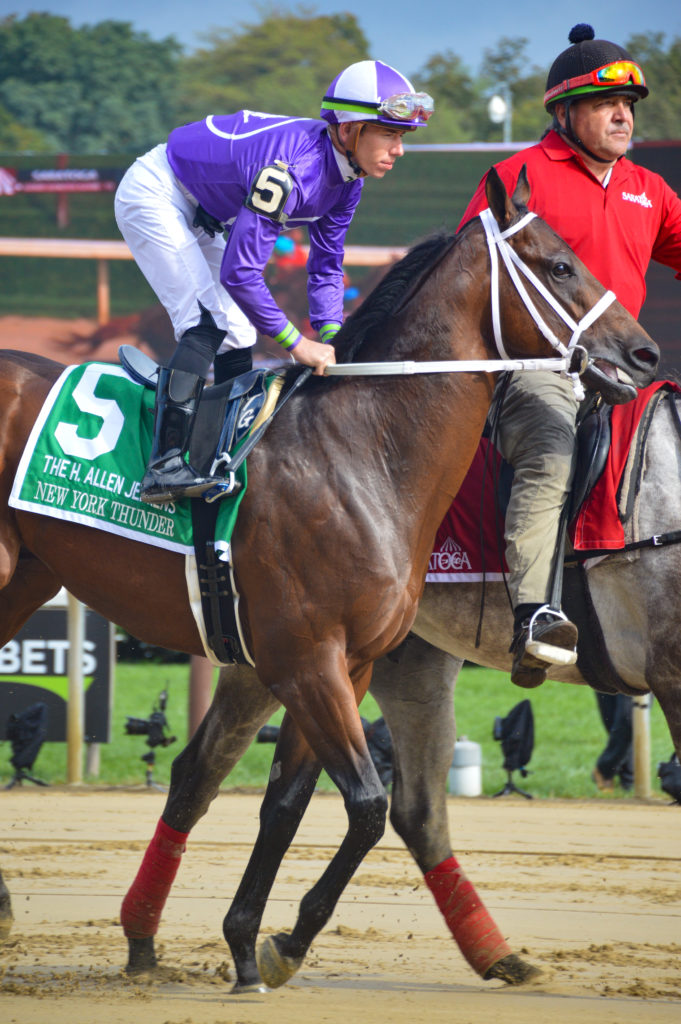 In Memory of New York Thunder
Born March 14, 2020 Died August 26, 2023 just before the finish line of the H. Allen Jerkens Memorial Stakes at Saratoga Springs New York
Something terrible happened.
I have been to many horse races over many years. I have been to Monmouth, Pimlico—for the Preakness, Charles Town, Laurel, Parx, Longchamp, Keeneland, Churchill Downs and Saratoga. I've visited many stables where the horses are bred and cared for and places where they go in retirement. I grew up in public housing; my only exposure to horses was in pictures but my daughter begged me for riding lessons. She has always loved horses. It took time for me to come around. When I started tacking up the horses because she was too little to do it they would nibble on my jacket while I cleaned their hooves or flat out refuse to be tacked up until they got me to rub their foreheads and noses or give them a carrot. They figured out pretty quickly what a pushover I am. I admired them before I loved them.
I had heard of horses breaking down on the track. Read articles about it; about the problems that may have led to their demise—the track, breeding, drugs. Seeing it is something altogether different.
It had rained hard the day before and it had just rained—a heavy cloudburst. The track was muddy. We all know how slippery mud can be. He was out in front, almost to the finish line, when he fell and tumbled over. He got himself right up and tried to finish the race. When I saw his left leg—broken at the cannon bone—dangling, swinging wildly, I realized I was watching the last moments in the life of this beautiful, powerful, magnificent being—in just a few minutes his life would be over and he would never exist again and the man behind me was puffing on his cigar and the woman he was with was fixing her hair and the two girls to my left were looking at their phones and the guy to my right was looking at the racing form. They caught him and drew a curtain around him. The few people who were watching went back to eating and chatting and smoking. Behind that curtain, he was euthanized and his dead body loaded into the horse trailer. The tractors came out and smoothed away all the evidence and preparations for the next race began.
We could not even take a moment to acknowledge the gift he gave us watching him stride magnificently across the track—flying over it at times.
I know many of you are against horse racing. Maybe you're right. Maybe I missed the point. We ask these incredible animals to risk their lives for people who have no real appreciation for them. I guess I get caught up because seeing a horse gallop at full power is awesome. It makes me cry every time. I don't know what I should do now.
Another horse, Nobel, also died at Saratoga that day.
New York Thunder was undefeated coming into his first Grade 1 race.
New York Thunder was the foal of Nyquist and Start Over. A bay colt, he was born on March 14, 2020 in Kentucky. He earned $232,323 in the four races he won before the his death at the Jerkens. His first two races were at Gulfstream Park. His third race was the Woodstock Stakes (Listed) at Woodbine and his forth race was the Amsterdam Stakes (Grade 2) at Saratoga, just a little over a month before on July 28th.