We rode the quiet car up to New York. No sooner than we got there, Arnold called and said he was bleeding from the ear. The doctor tried to remove some ear wax; my first thought was he punctured his ear drum, my second was we were going to have to head home. Always something. I tell myself everything will be fine and head to Zaro's for challah bread, my first fix. There was also a box of mini black and white cookies. Then pushing through the crowds to catch the blue line downtown to Canal Street. I miss tokens.
It was supposed to be raining, but does it have to rain, rain? Am I going in the right direction? I am. Down Mulberry to Hotel Mulberry. Small, clean, relaxing, great view of the new, single tower? I can't wait to get to Rubirosa so I can show Jessica some real pizza. We have to sit at the bar but in a cramped place like this it really doesn't matter. We order a Caesar salad and a large vodka pizza. It is larger than I remember and Jessica barks at me that she hopes I'm not going to stuff her the whole time we're in NY. This is the same person that ate an entire pound of pasta in one sitting last week. And is always asking me: "Are you going to eat the rest of that?"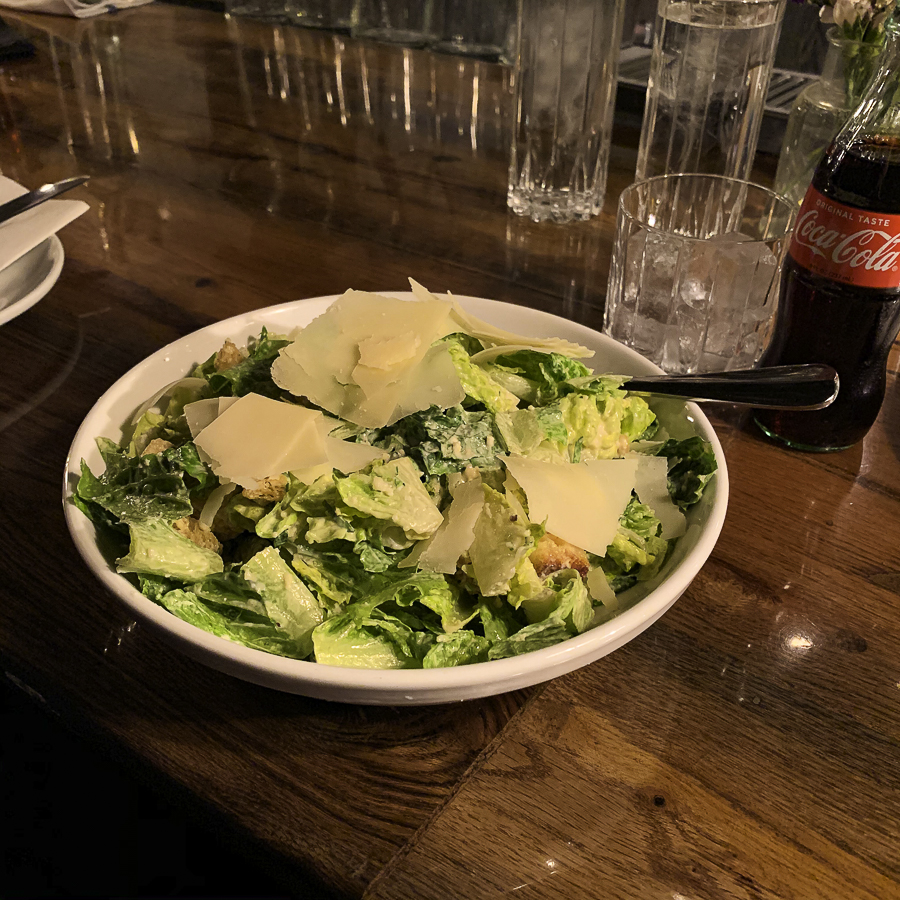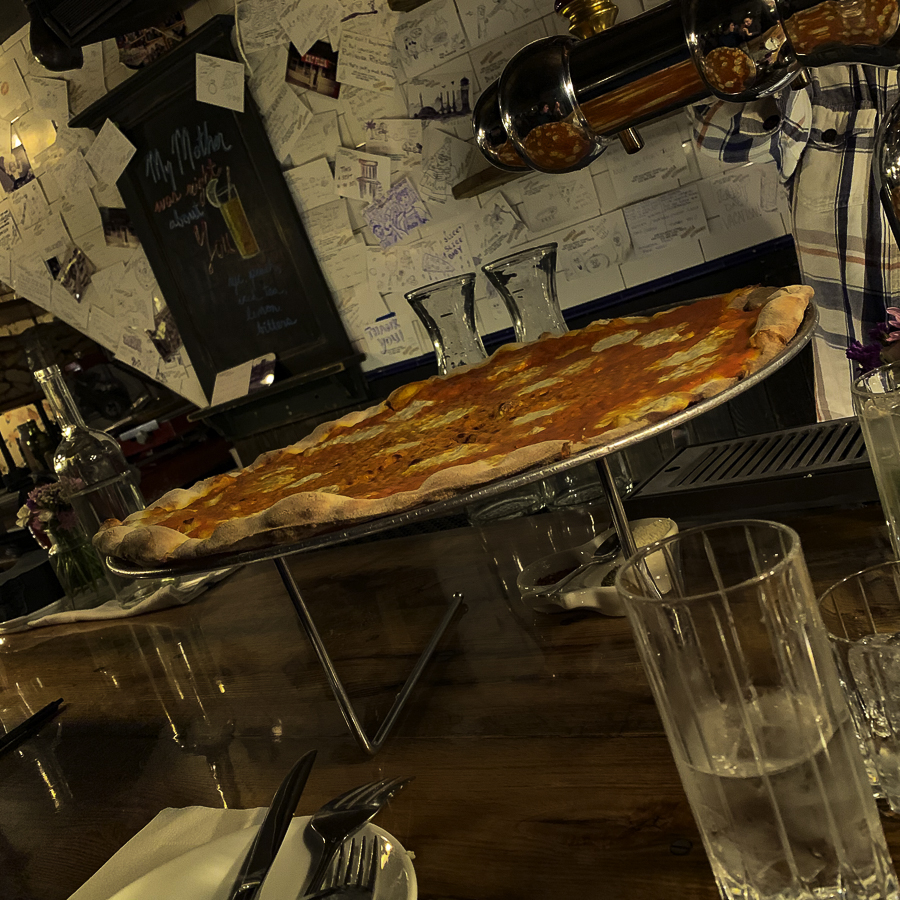 This will be our shopping afternoon. The whole SOHO, NOLITA area is a garden of social media plants. We hit Mejuri, Everlane, Cuyana, Beautycounter, GOOP, before swinging back to Mejuri where Jessica gets two pretty gold rings she can stare at all week. It's nice to see something different from the mall. I get some samples of Barbara Strum's $300 face cream. I scrutinize the ingredients for secrets. Our final stop is McNally Jackson bookstore where they're all weird about their bathroom and don't have anything from my list. It's a very left-leaning shop, not that I was looking for an Ann Coulter book or anything. Time for soup dumplings at Joe's Ginger. Plus I order Chinese broccoli in garlic sauce. I'm all healthy now and can go back to the room and get into those black & white. And the challah. Tomorrow will be sunny and cold.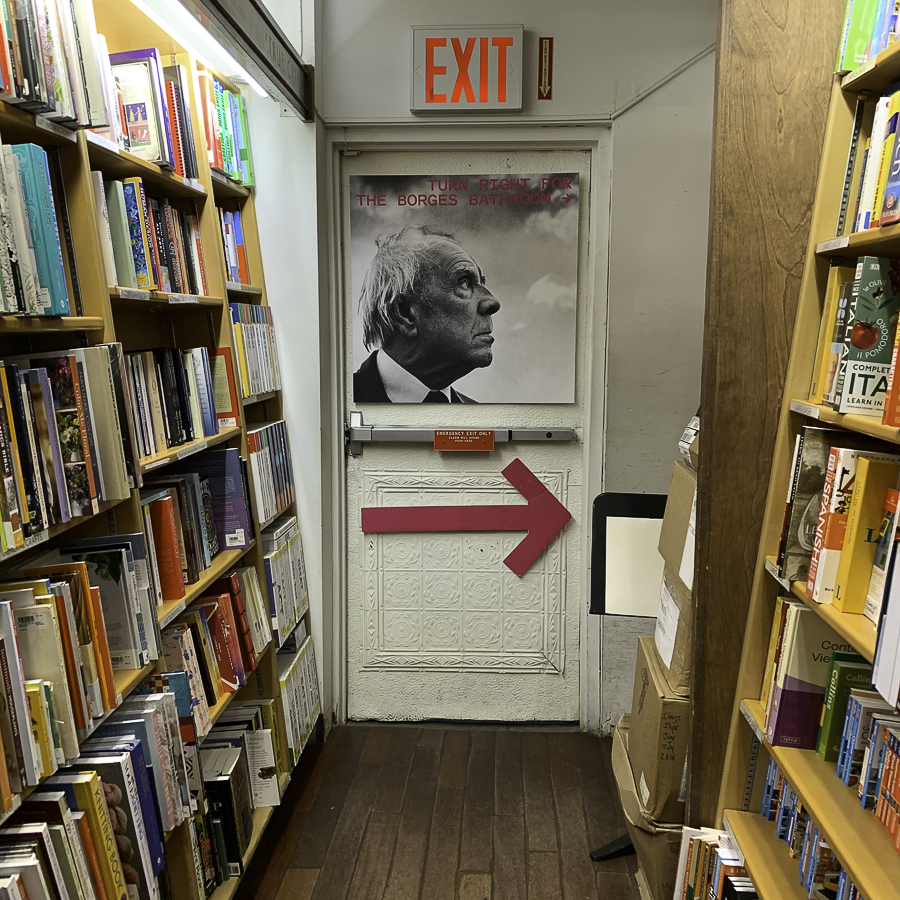 Wednesday. Uptown to Shake Shack for brunch and on to the Museum of Natural History. I had the kids here before when they were younger and Jessica was a dinosaur fanatic. Still is. The dioramas are cool but the layout is tiring and the hominid exhibit confusing. But one good thing: while staring at a giant meteor in the Hall of Meteors, Michael, one of the museums 'explainers' comes up and tells us to touch it because it will be the oldest thing we will ever put our hands on. I put my hands on it very gently. Then he slaps a magnet on it. It's iron. It's name is Ahnighito and it was found in Greenland. It's old because iron is the last element a star makes before it dies, so it was made by some other star, somewhere around here, and then became part of the core of an early planet in our solar system that didn't make it (also good article recently on how planets may had rearranged themselves based on observations of other solar systems which show big gas giants closer to their suns) anyhow, then was probably in an asteroid in the asteroid belt until something knocked it here. It's always more interesting when someone tells you about something. After three hours we were flagging. Never overdo it with museums.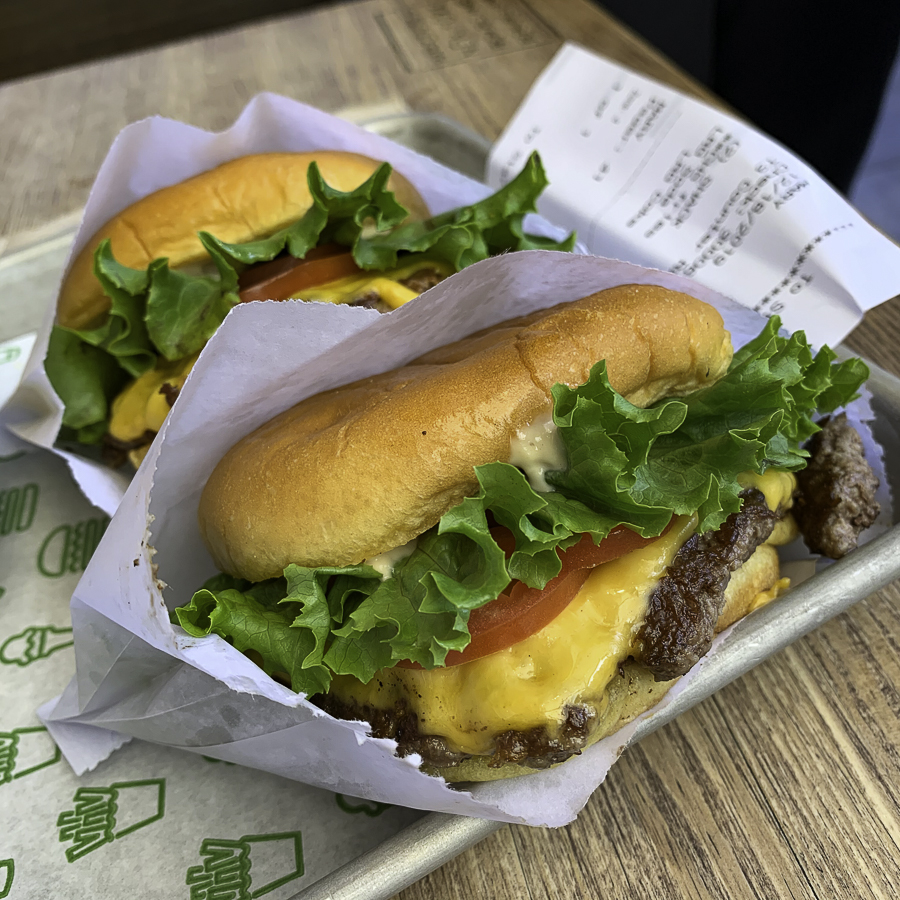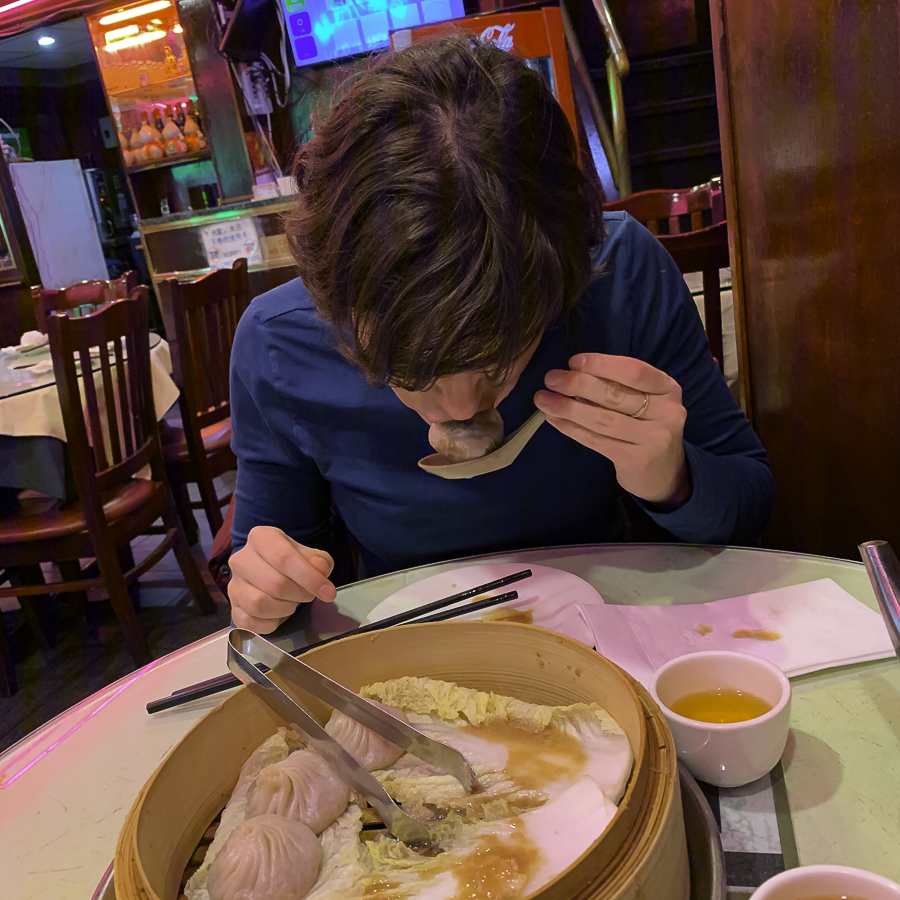 We head downtown on the blue line to Spring Street. We want to get to Rubirosa before it fills up. You have to be either very early or very late. There's Neuhaus! Home of the best ice cream bar in Berlin and the best dark chocolate with mint bars. While we're loading up on chocolates, I start getting alerts about a snow squall on my phone. Ok. Two more on our way to dinner and then I see the dark swirling clouds coming from uptown. After we get into Rubirosa winds and about an inch of snow. We're safe and warm. I get a glass of wine for Jessica and get her to try their Cacio de Pepe and it's very pepe also with thin pasta. Need to get her to try Pasta al Carbonara. Another dish I'm not likely to make at home. We stop in Beautycounter and she tries some really lovely looking lip gloss and she has been wanting lip gloss…but she needs to marinate on it. Can we go to that rice pudding place? Rice to Riches. The small looks so small, I order the next size up. No get the small says Jessica. Before she jumps on me I admit to my mistake and humble myself before her supreme wisdom. Too much of a good thing is a stomach ache. Trump is impeached. Eh.
Thursday. Oh, it's flying by now. We hit Canal Street Market for brunch. We both get boba at Boba Guys and Jessica gets ramen at Ippudo and I get Joe's Rice Noodle. The ramen looks good but damn allergies. The rice noodle thing, shrimp and chive , is gelatinous level 12. Not my texture. The boba really is honey boba. Yum. We them head over to Matchaful (something Jessica picked out) for a respite from the hectic city streets. She gets an iced matcha with macadamia milk and a reusable bamboo straw and I get the traditional. Damn allergies. On our way to the 9/11 tour, we stop at Casper in the Oculus so I can look at a very expensive dog bed. Oh, and there's barricades up around the Oculus and signs warning of danger from falling ice—it's stunning but the building could kill someone. The 9/11 tour is, uh, sad. We learn that the order of the names of the victims along the perimeter of the buildings are mostly placed together because of requests for meaningful adjacency, people who knew each other or worked together. The guide tells us one was a young intern working for folks who had known her since she was a kid. There was a lot to take in at the museum and we missed the black box from the plane that crashed in Pennsylvania. I would go back to spend time walking through that part again, but a tour was good for Jessica who was just a baby when it happened.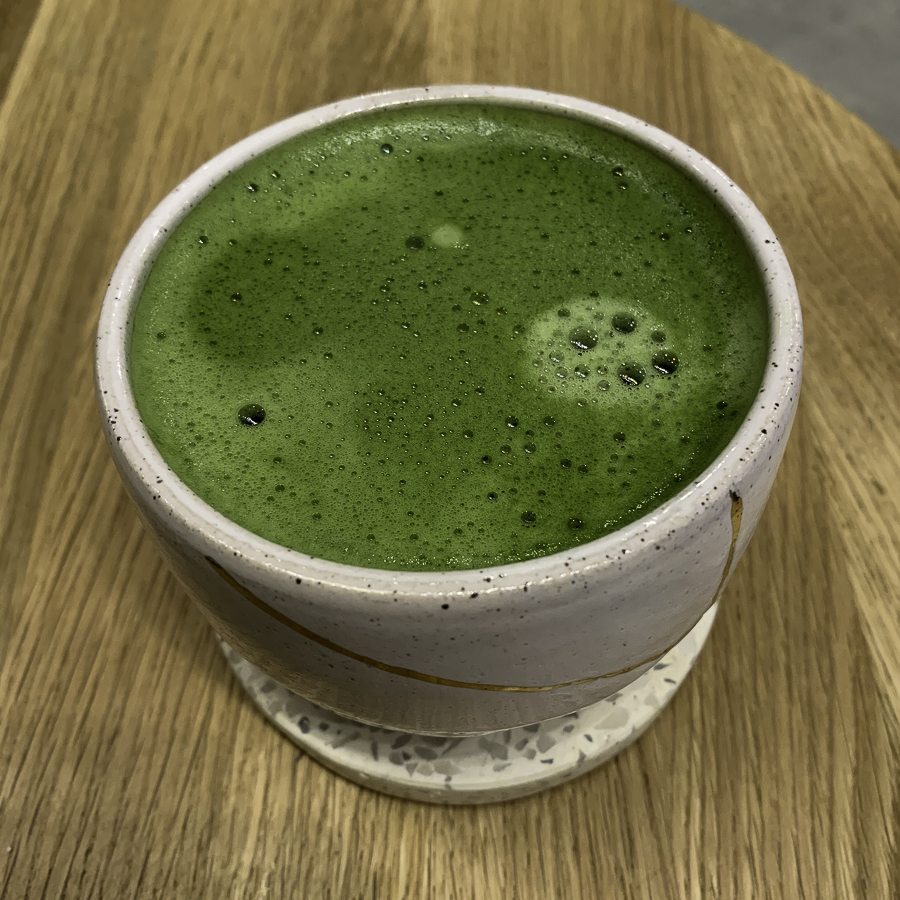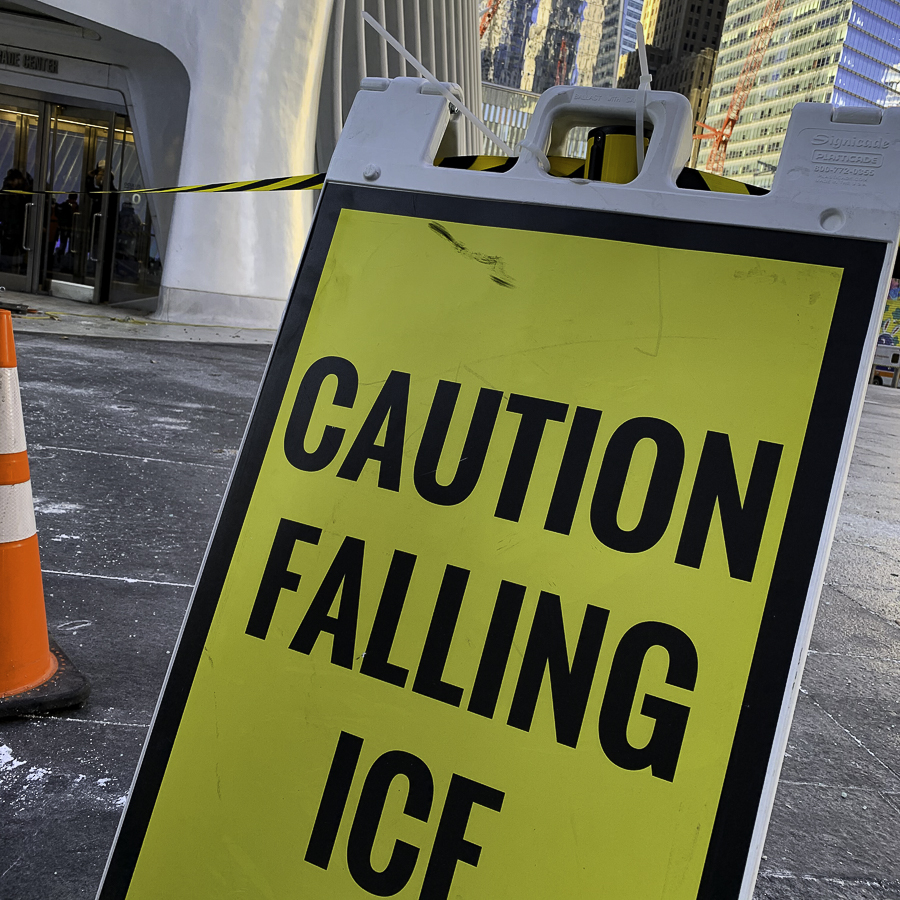 We stop a Beautycounter to get the lip gloss. I want her to get it so she can enjoy it while we're in NY. We have to have some fun. We stop by Rubirosa, but there's a big wait so I say let's go to Joe's Ginger. I add some scallion pancakes to the order so she can try them. We can't be out too late; the Democratic debate is coming on: Biden, Warren, Sanders, Yang, Steyer, Buttigieg, Klobuchar. No subtitles though. Damn hearing impairment. It looks like Klobuchar got more words in.
Friday. Uptown on the 6 to walk in the footsteps of Nikki Haley at the U.N.. Less than a week before Christmas, the place is deserted. The bookstore doesn't have Nikki Haley's new book. It doesn't have Madeleine Albright's either. Lot of crap here. One meeting hall we can't go in; they're sorting something out about Syria. The other meeting halls are straight outta 1947; lots of pea green and pumpkin orange. The real star of the show is the bizarre artwork. I'm so stunned, I don't even take pictures. One is some sort of mosaic with a man in an Atlas position in a white thong. I shit you not. I can't even find it online, so I'll have to go back and make sure I didn't hallucinate. The plan after this was to get lunch at Japanese tonkatsu place Matasunoya—it was, ok, not gonna be dreaming about it—then head up Fifth Avenue to see Trump Tower and Tiffany. Jessica tried on a Tiffany T ring. It was nice, but I like what she got at Mejuri better. And it was super expensive. We headed over to the new Nordstrom. It was a department store. We did get a cereal milk ice cream sample and some cookies at the famous Milk Bar satellite. The cookies weren't very good. Very doughy. What do I know. I take her down 6th so she can experience real midtown crowds and also the tree at Rockefeller Center. She says it's smaller than she thought it would be. Can we go back to Matchaful? Absolutely! We head back downtown, have matcha, and then she wants the ramen soup at Canal Street Market. "I thought it gave you a stomach ache?" "Yeah, but it was good." I get pizza from the pizza guy and I thought he was going to make me a pizza in the little flaming pizza oven, but instead he takes the display pizza, that I'm pretty sure has been there all day, and warms it up. Ugh. Jessica is happy with her ramen and lots of quality people watching.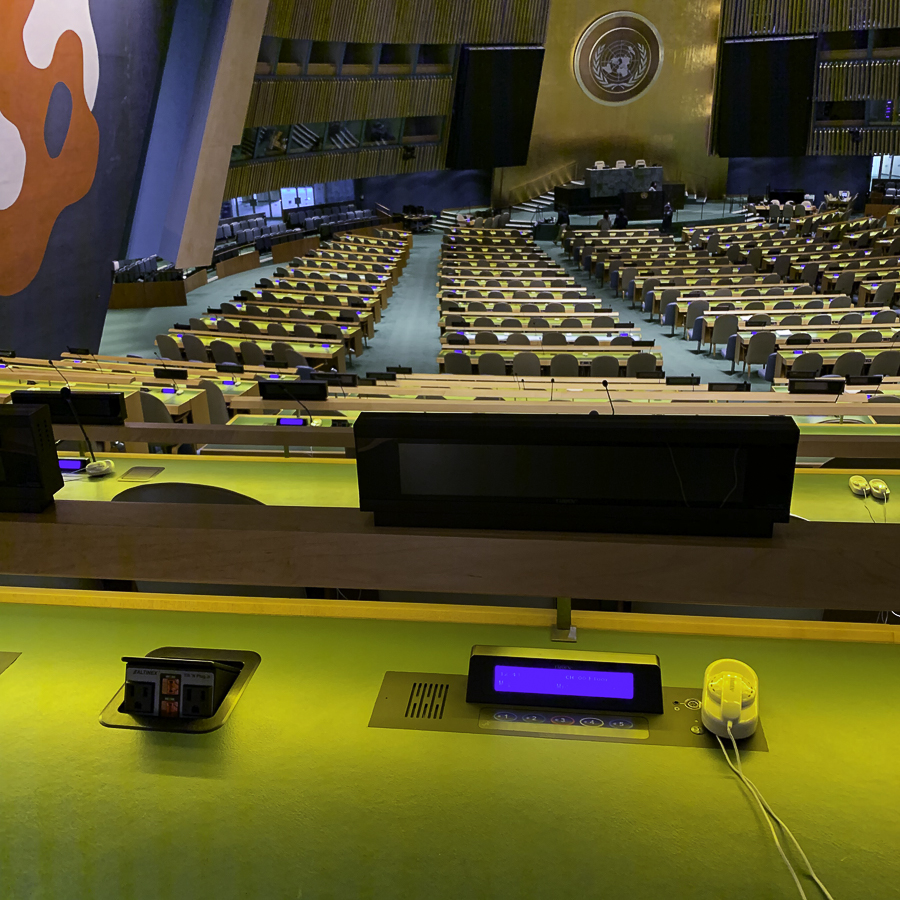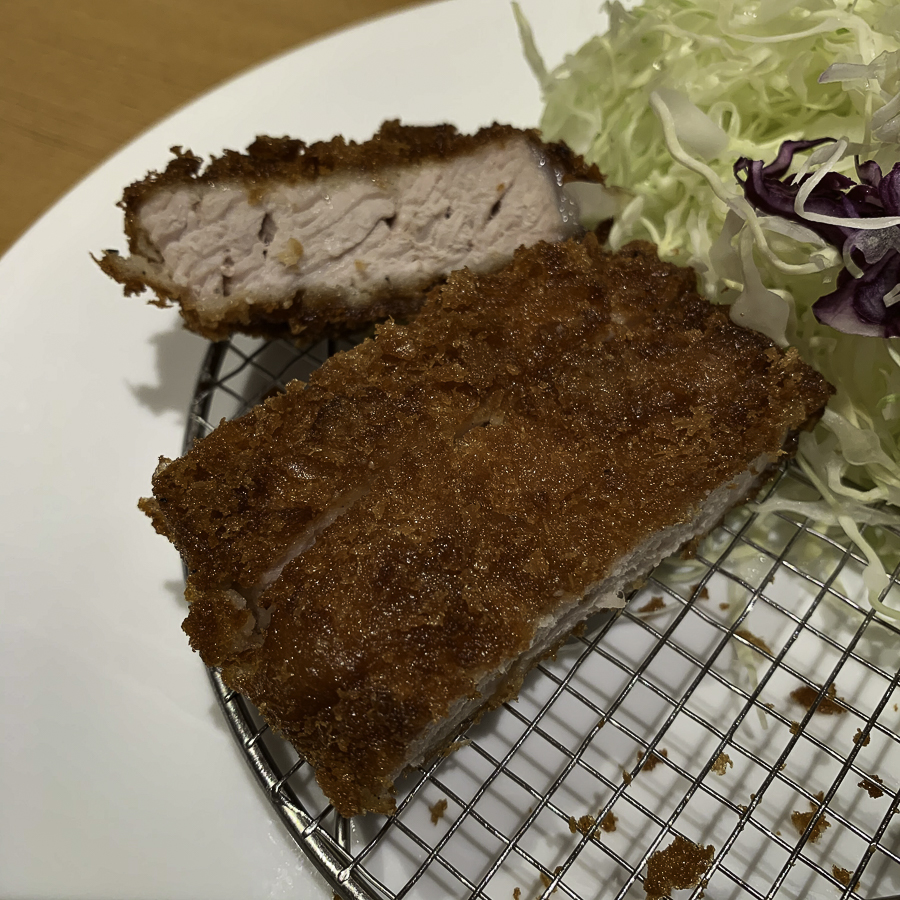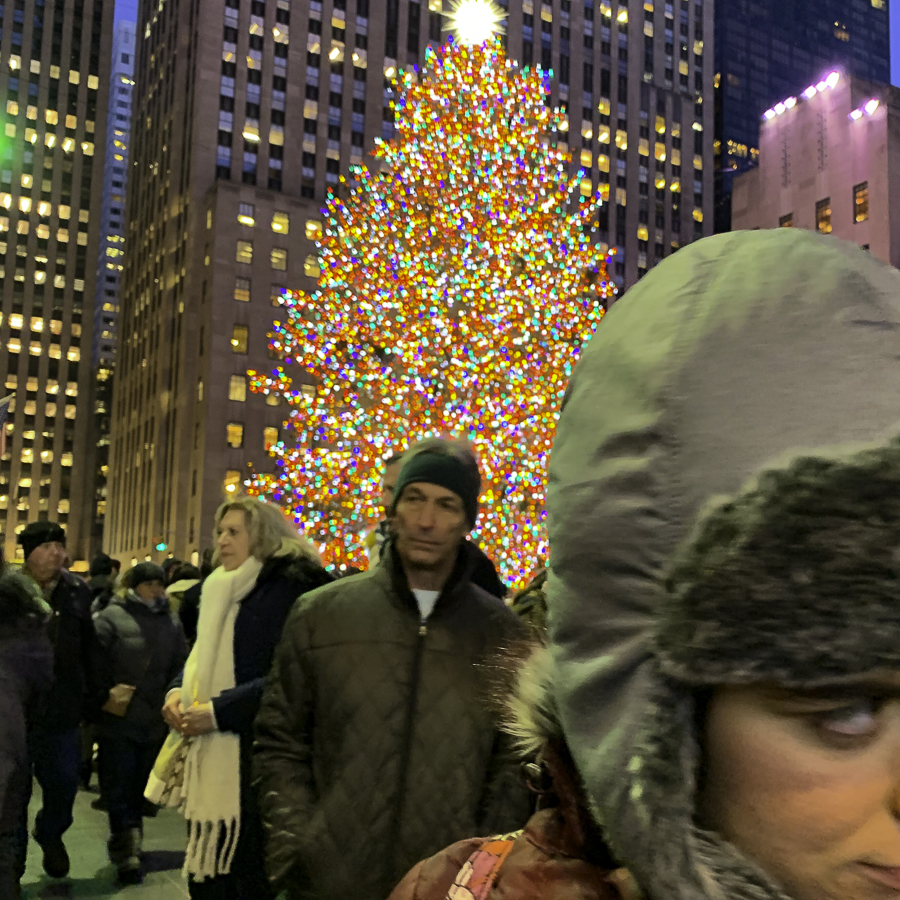 Saturday. We decide to eat after the Tenement Museum so we stop at Boba Guys but they only have boba after 11. Okay. So we stop in Starbucks. Jessica gets a green tea Frappacino and I get a tall dry cappucino. Now I remember why I don't get Starbucks anymore: it's awful, it tastes burnt. I use Illy at home.
We were doing the same tour I took my older daughter on a few years earlier: Hard Times. You walk by all these tenement buildings on the lower east side and duck in all the chic little shops and I'm sure it's expensive to live here now, but it used to be teaming with poor, newly arrived immigrants. And it changed 'nationalities' over the years. In the mid to late 1800's it was Germans and the signs and the language spoken around would have been German. Our guide took the story of a German immigrant family during economically bad times and by the 1930's it was filled with Italian immigrants during the great depression. They fixed up the two apartments to look as they would during those times. I thought it was really cool. Later it becomes a Hispanic enclave.
Russ & Daughters has a giant wait so I take her for a real slice at Joe's on 14th. Actually three slices each. It is so good. Nothing near home is even, even. Then I take her to the Strand bookstore. I had never been, but everyone raves about it. I don't like. It's big, crowded, and smelly. And non-relaxing. They don't have anything I'm looking for either. The guy there suggests the Bonnie Slotnick. I had heard about her shop. But they don't have anything from my list either. I march her tired butt all the way down to Boba Guys. We wait in the line. Then over to Beautycounter because I want to get her the sample foundation that looked great on her, but she wants nothing. Can we go to McNally and look around before going to dinner?" I ask." I get a terse "fine." I want to go to Russ and Daughters. It was so good the last time, I want to do a follow-up. It's a bit of a walk and she ambles along behind me. Maybe she needs food. It's also warmed up, so our -40 coats are making us hot. They're not crowded at all. It's quiet. We'll have a nice quiet last dinner. She doesn't talk to me at all, just scowls at me. Matzo ball soup, yum. Potato latkas, okay. Pumpernickel bagel, paper salmon, onions, cream cheese, capers, yum. Vanilla cream soda, okay. Pickled herring sampler, OMG. Halva ice cream, interesting. I get two bialys to take back. I ask about getting herring and he advises I line up at their shop an hour before it opens tomorrow morning. I think about that. I could get more challah too. They ship but it probably has insane shipping fees. That's why they won't tell you until you order. The grump plods along ten steps behind me. I wanted to have a perfect ending.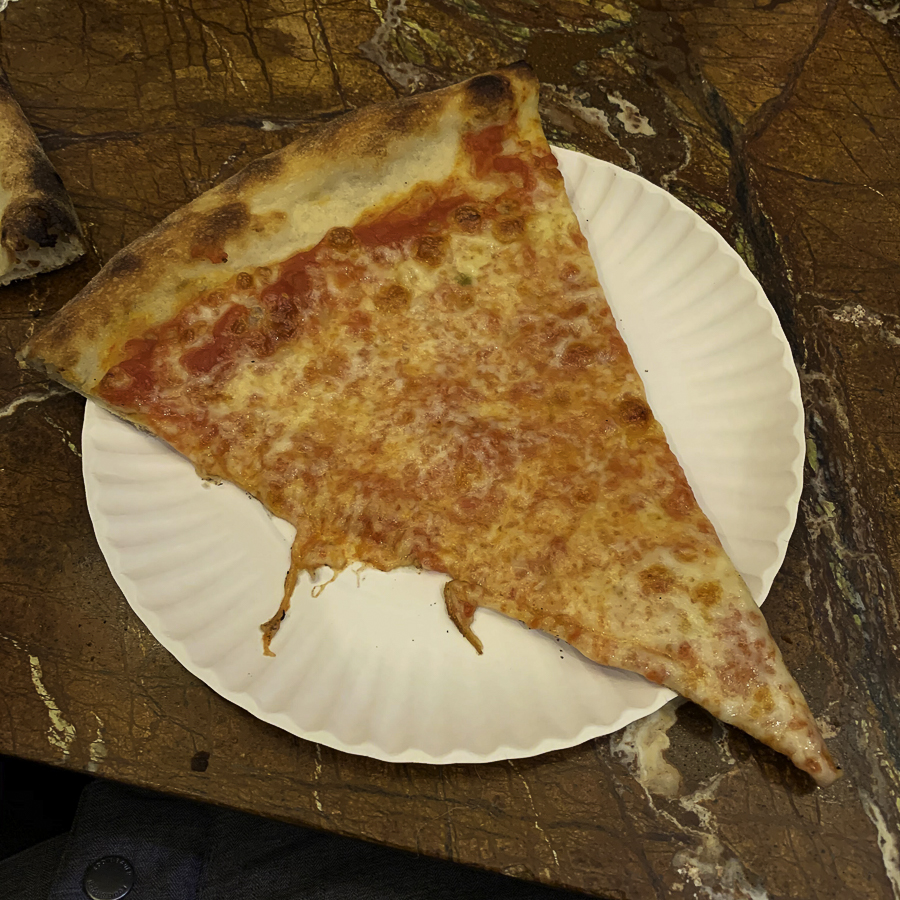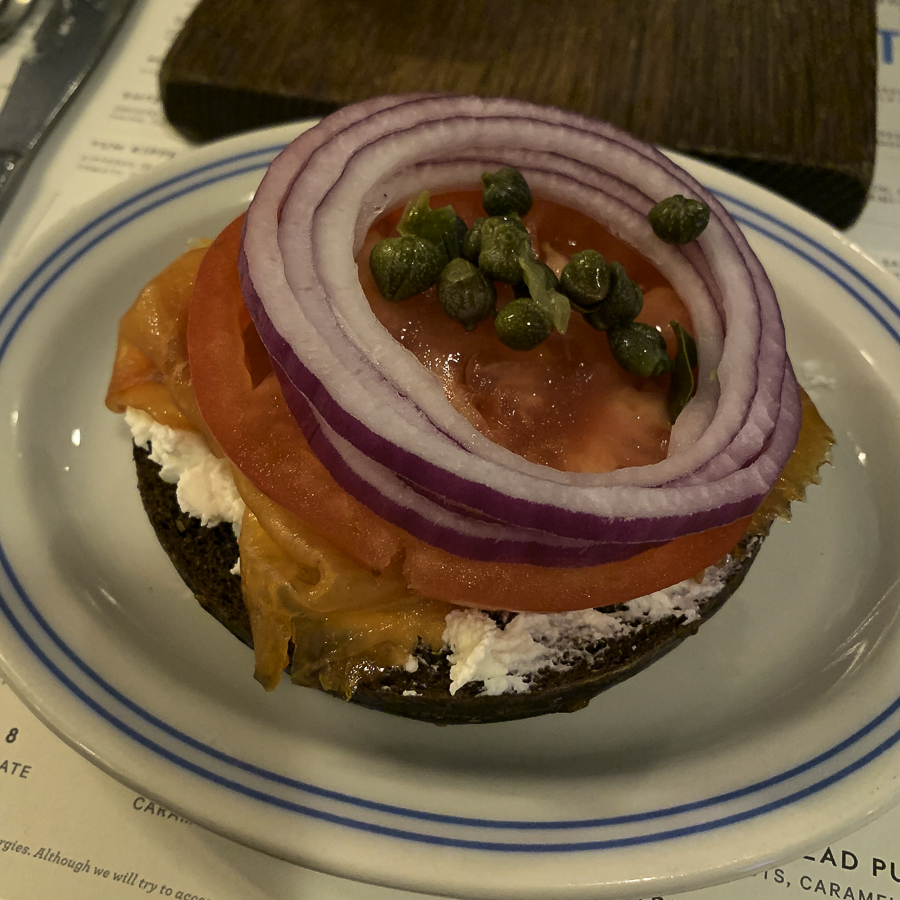 No Saturday already no. Pack the bags. Leave bags at hotel. I decide I am going to get makeup at Beautycounter. It was just the best foundation on Jessica. $225 later I have basics. We head over to Rubirosa. Already crowded, so we're at the bar. Jessica wants some pasta with mushrooms. So I get rice balls and we share a salad. Then something weird happens, Jessica has a dizzy spell. I feed her ice cubes and press them to her neck just hoping she doesn't pass out on the floor. She lives. We still have a few hours. Back to Mejuri to look at a necklace she liked, stop in crowded Allbirds, past line for Dominic Ansel, Eileen Fisher is quiet. I spend a lot of money on really nice stuff. Christ, I hope I wear it out. Past the line at Glossier. We're starting to run out of time so I decide to leave Jessica to rest up at Matchaful while I go back to the hotel and get our suitcase and two backpacks. I run. Through dense crowds. I'm dripping sweat in my Eddie Bauer Stadium Coat, I've broken two nails and broke one off when it got caught on my scarf that I was trying to get off me. Jessica finds it in her heart to tell me a I smell really bad. Three times. Shut up you ingrate. Matcha. Blue line uptown. Only raisin challah and some sesame braid thing. Even Acela has priority boarding for special people. How I am never in this group. Luckily we get a nice seat together in the quiet car again and Jessica can dig into the Nikki Haley book she got at the station.