We go from Dulles to Newark to transfer. With a rare layover (we usually fly WOW, they like to make you run between connections in Reykjavik for a little cardio) we find ourselves at Forno Magico for some decent pizza. Be careful with the plastic knives they give you past security; you're more likely to cut yourself than the food.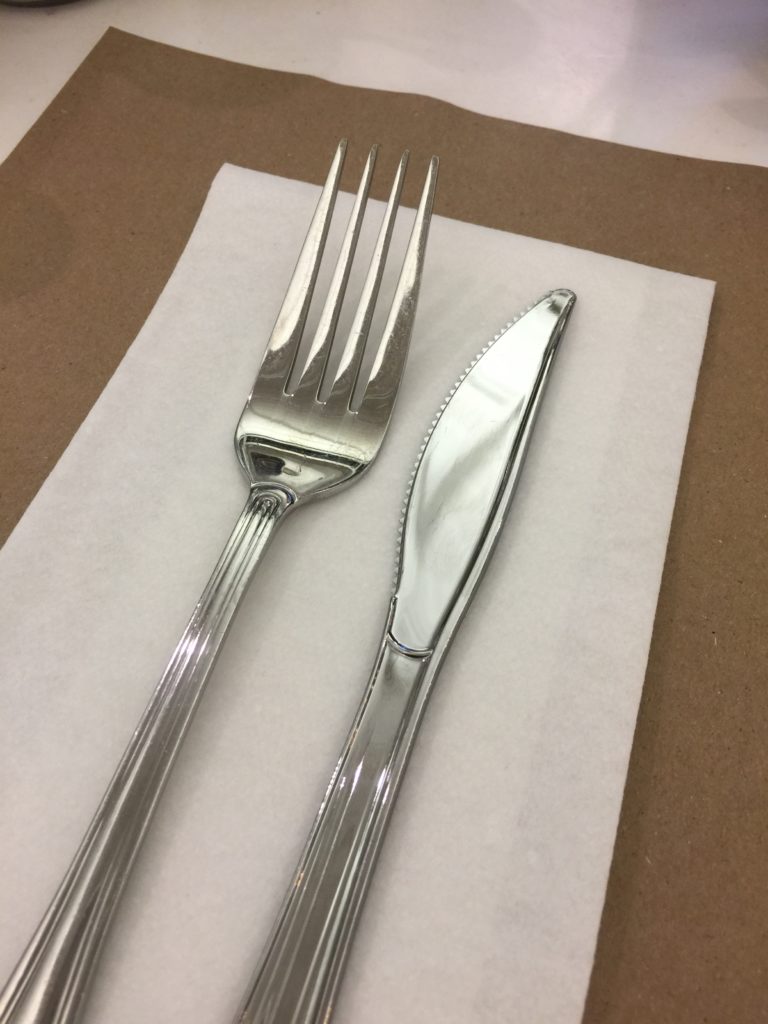 Our travel planner insisted on VIP arrival. The situation will be impossible, she says. They made me feel like I had put them through so much making them downgrade the penthouse, the private chef, the private spa, I just let it go. I just wanted great guides. And so we walked off the plane and were whisked into one of those Suburbans with dark tinted windows, whisked through immigration via the handicapped lane (double bad karma), and then, we waited. We watched as the bags started on the conveyor belt, we watched the other folks from our plane trickle in and collect their bags, we waited while our escort raced around nervously inquiring about our bags. And then, after every single person from our plane had gotten all their bags and left, our bags popped up. The very last bags. Beware: anything with the words VIP is cursed. You will pay.
We were put up in the Hilton with views of Tel Aviv and a menacing storm on the Mediterranean. Our guide confirms, yes, there is a storm coming. January is the beginning of the rainy season and this is January 1st. After a spirited introduction to the history of Israel at Independence Hall, we risk drowning to cross the street for Levinsky Pasta Bar. It is worth it. I have the best pasta I have ever had, some simple thing with olive oil and parsley.
Prepare for the visual assault of Bauhaus in bad shape. The White City needs, well, the Chip and Joanna Gaines of Israel to inspire a fixer-upper craze. Some of the buildings have been rehabbed in exchange for adding an additional floor or two. But it would be so cool if it were all fixed up, like a Disneyland for Bauhaus buffs. Even so, the form itself is, unfortunately, prone to cracks.
We wander around some of the quirkier parts of Tel Aviv in the Yemenite Quarter and get some Yemeni bread. If you're trying to avoid carbs, you really need to stay away. Moist, flavorful, and full of bubble holes made by happy yeast. I think it's called lahoh.
I'm taken down by the most beautiful sandwich: sabich. I talked about allergies, I hate to overload everyone but I am highly allergic to fenugreek which it turned out was in this pickled mango paste called amba. Shit. I turn red, I feel sick, my daughter looks at me with alarm eyes and says, "Do you need the epi-pen?"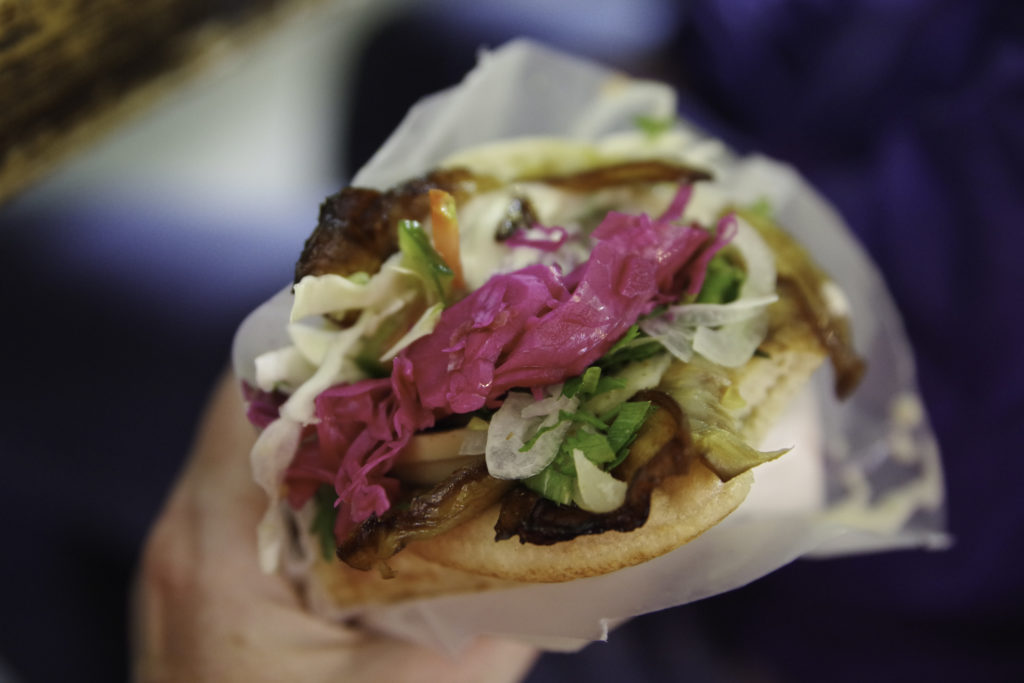 Be prepared for a serious case of produce envy. We walk through a market that looks like it is managed by Disney.
And then Brutalism. Tel Aviv City Hall in Rabin Square. Only someone with a serious sense of humor would design a government building to be this forbidding. And watch out for the Mediterranean. It's not the calm, placid 'sea' we think of. Today it was something right out of the Odyssey. In the evening, my social media accounts are bombarded with ads to meet Russian women and girls. Have I been hacked?
Don't settle in for a long drive. You'll get from Tel Aviv all the way to Caesarea in, like, an hour. It's only then that I realize the whole country is smaller than New Jersey. Our guide says they have so much history to dig out because, not having bulldozers, folks just built on top of things. After we run through Baha'i and the Crusader fort Akko, where I observe my daughter and guide enjoy the falafel, we head to a late lunch with Pinina, a Druze woman in her empty nest. I learn I cannot become a Druze because when they die, they are reincarnated immediately, so it is just who is already a Druze that can be in this cycle. The food is so good I forget to take a picture until I'm almost done and truthfully, I feel it is rude to be snapping away in someone's home. Maybe I'm wrong and she would take it as a compliment. But I wish I had photos now. We have lemonade with geranium leaves and rose water. I like this. We have wild endive with fried onions, meat kebabs with a tahini sauce, a cherry tomato tabouleh, a bread with hints of anise and turmeric. It never ceases to amaze me how many different foods there are. I get a copy of all the recipes and I later buy the Galilean Kitchen cookbook but it just doesn't taste the same.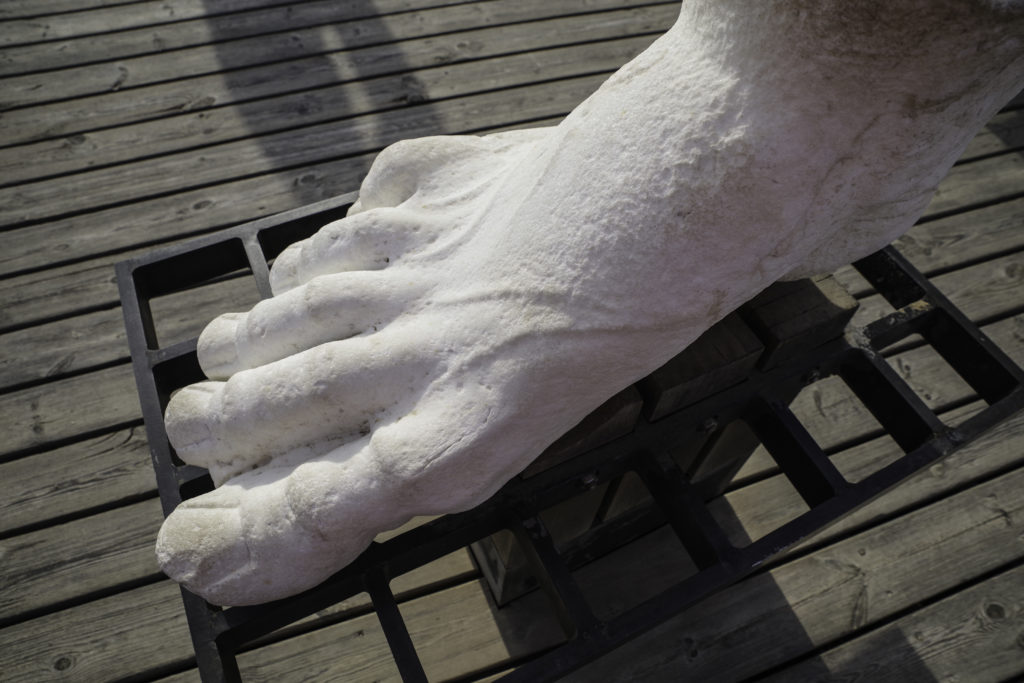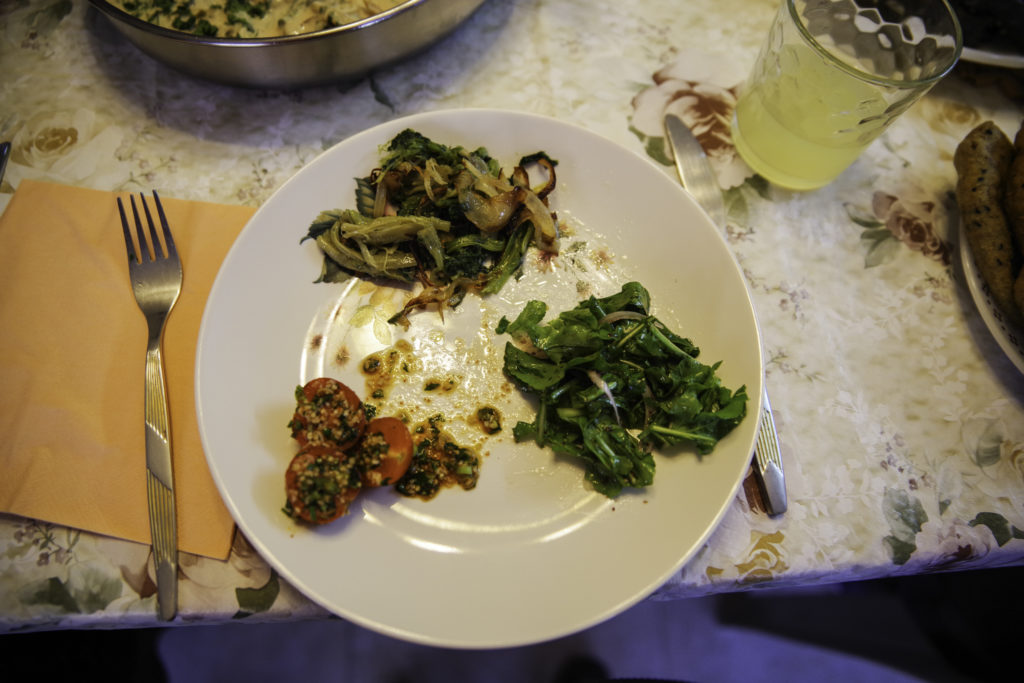 This being the fourth day of the rainy season, we are expecting a furious storm. Our guide rearranges everything and begins talking in tongues. Mount of Beatitudes— Blessed are the meek for they shall inherit the earth….We visit Tsfat and crash some kid's Bar Mitzvah, we get a beautiful scarf, the rain is starting, we go for a freezing cold jeep tour of the Golan Heights, we see some danger signs and a few shriveled pomegranates still on the vine. Then, because we need danger to feel alive, the fortified UN Camp Ziouani near the Syrian border and then an abandoned Syrian administrative building, where under threat of rain and high winds, we can peer into Syria. After this we tuck into the much more dangerous De Karina chocolate store.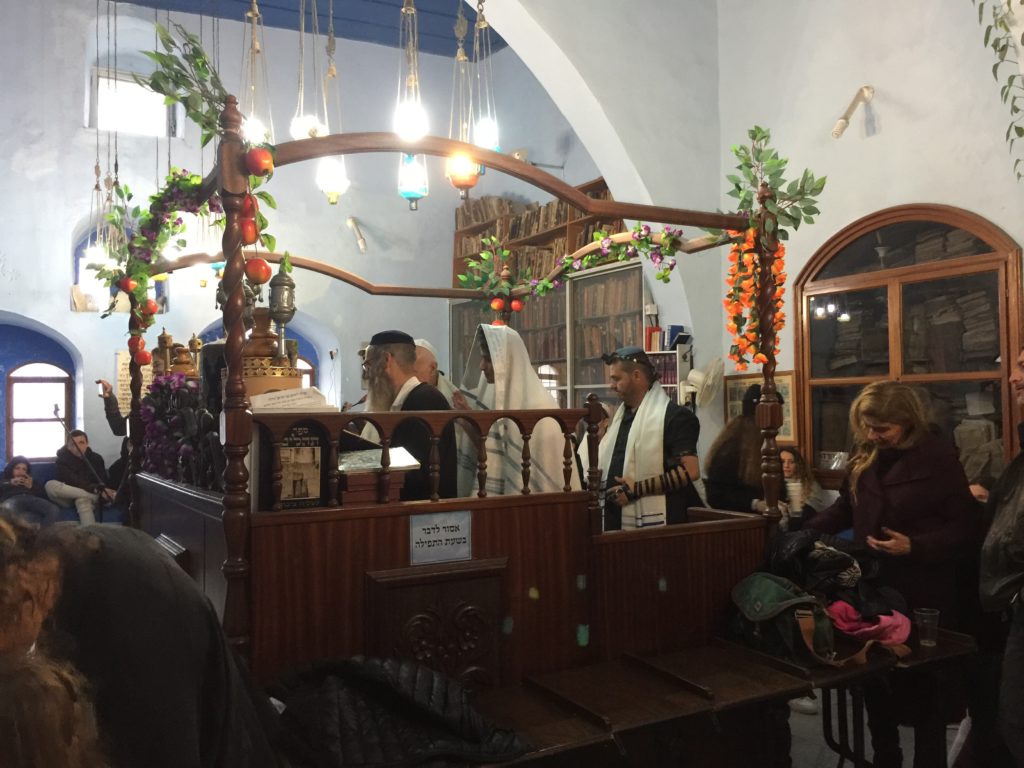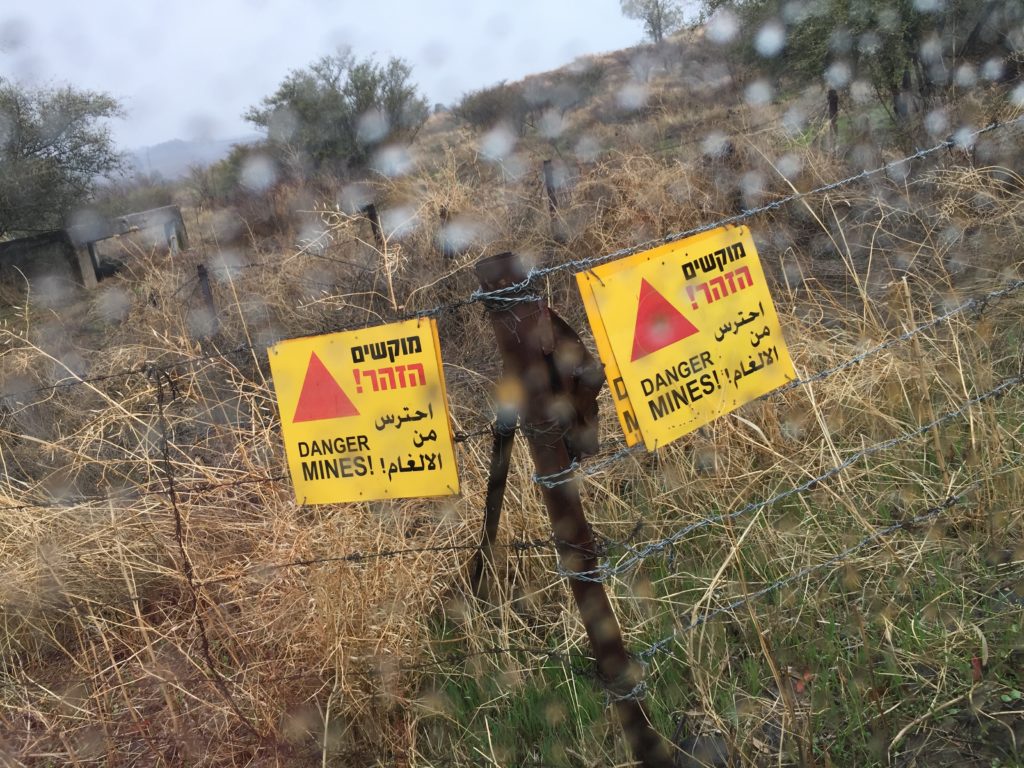 The next morning will be seared into our minds. We meet with Lt. Col. Sarit Zehavi. Over the next hour she gives us a geo-political view of Israel and all its neighbors. It's a complicated and dangerous neighborhood. We visit Kibbutz Degania, the oldest kibbutz in Israel, in pouring rain. Their very interesting museum is in poor condition and the roof is leaking. Money. Without regard to luggage weight, I buy the two heaviest things in their shop: olive oil and honey. As I write this a year and a half later, I have only just run out of both. Rain has ruined a few stops, so our guide takes us to Beit Alpha to show us what happens when you hire the least expensive contractor to do your mosaics. Although the zany looking people and animals have a kind of energy more polished mosaics lack. We miss Kabbalat Shabbat at the Western Wall due to pouring rain. I start to worry about the Jordan part of the trip which would be completely ruined by rain. I like to get out ahead with my worries and anxiety, no sense in procrastinating.
Beautiful but chilly; our first day in Jerusalem. We are standing on the Mount of Olives, behind the oldest Jewish cemetery, near where Jesus passed on his way into Jerusalem to hosannas and palm fronds. There are a churches here for the sole purpose of waiting for the return of the messiah, so he won't have to search for an AirBnB. The Russian Orthodox church is the shiniest. It is here that I realize my younger daughter has forgotten everything in the Bible. I haven't forgotten because I went to Catholic school and had to recite stories from the Bible under threat of a yardstick Sister Catherine kept slapping against her palm. Brace yourself, history starts fast and furious here: we visit Oskar Schindler's grave and place a stone on it, olive trees, Garden of Gethsemane, Mt. Zion, King David's tomb, site of last supper on top, Dormition Abbey where Mary lived, enter Jerusalem through Zion Gate, walk along Via Dolorosa, climb a roof where the four quarters meet to see everyone's satellite dishes, Church of the Holy Sepulcher where we watch people, a lot of people, kiss a stone that Jesus was laid on, Al Asqua mosque, more Via Delorosa, and the Western Wall where we go to the women's section. Be careful, the roads in the old city a very, very slippery when wet, more so if you have slip-resistant Vibram soles. Whew. I hope there isn't a quiz tomorrow. Pizza and pavlova at P2.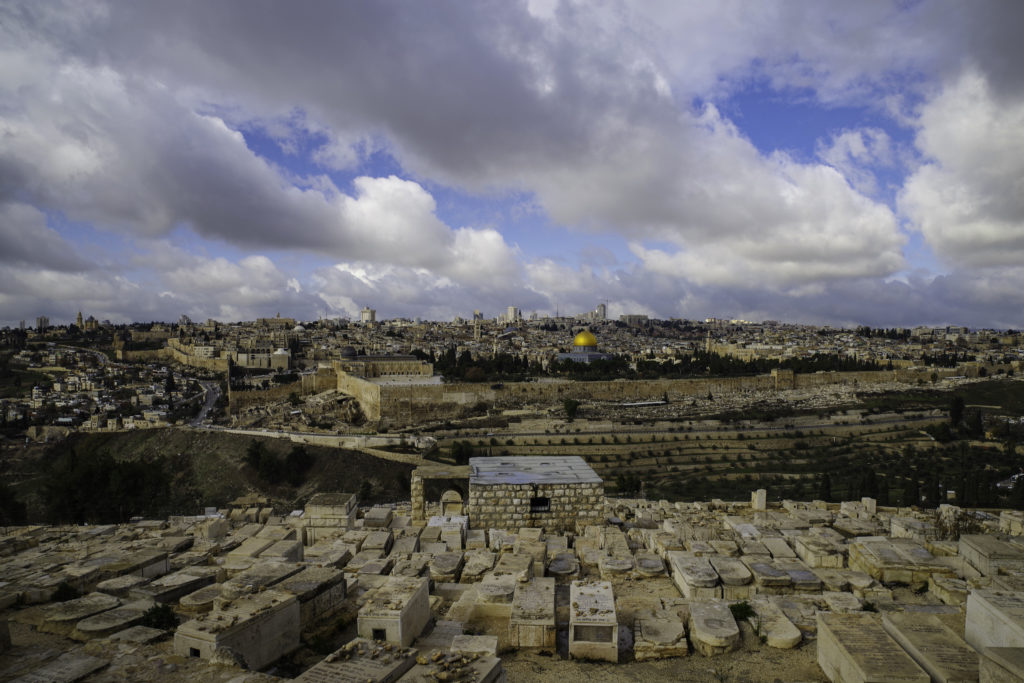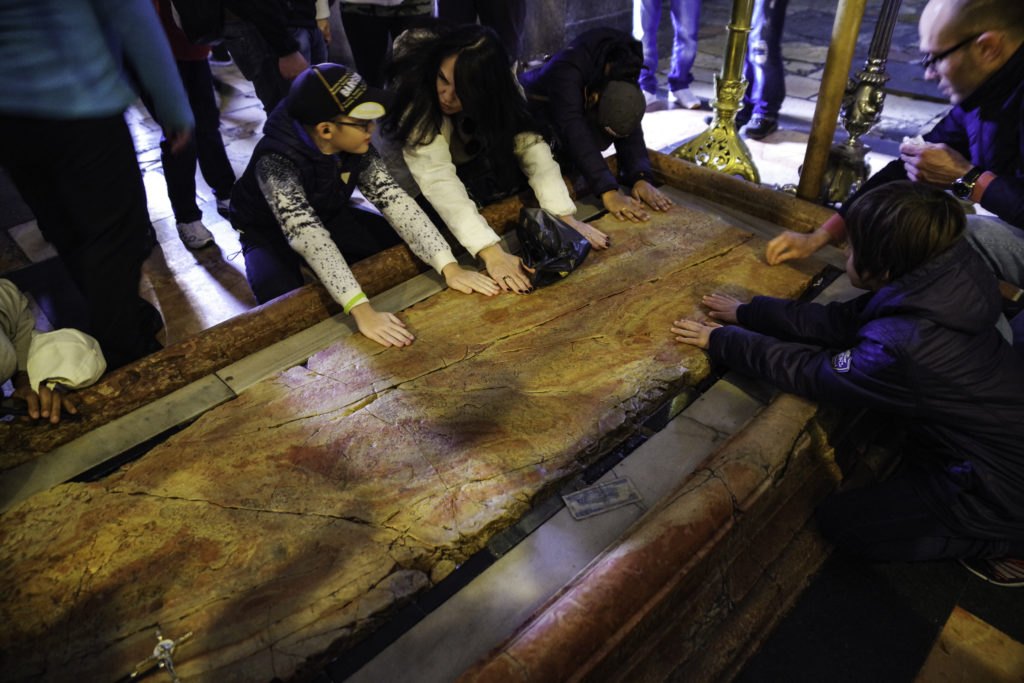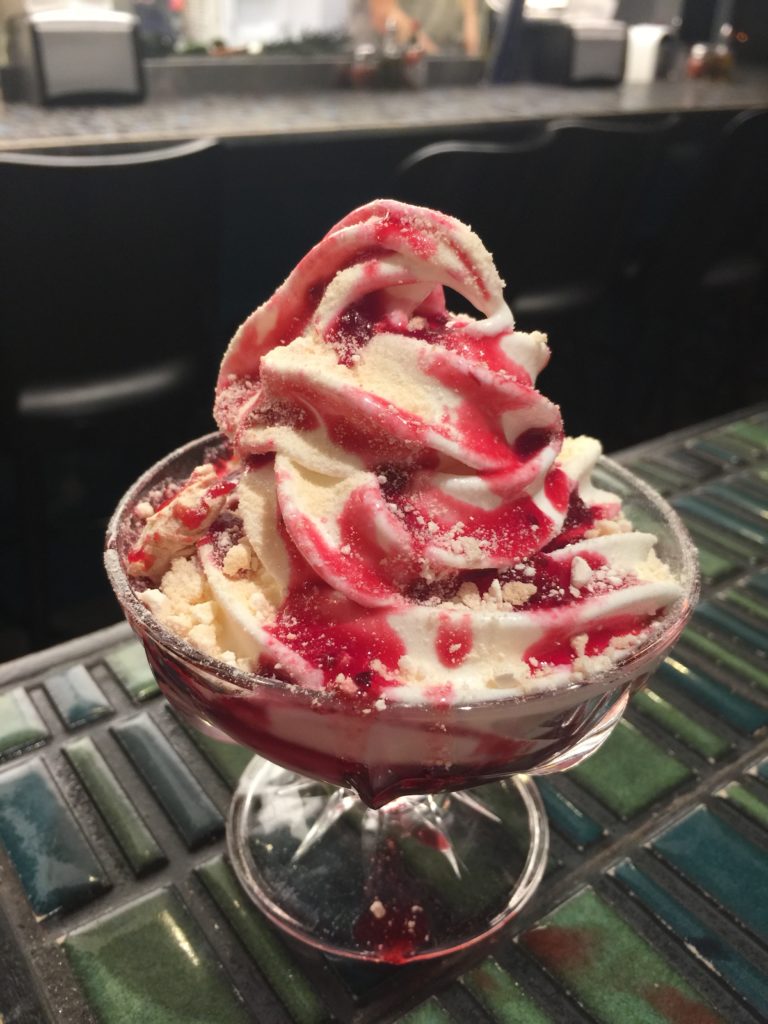 Yesterday, our guide took us to a shop that sells very expensive textiles. The owner, Bilal Abu Khalaf, showed us some material he still had from Syria. He let me take pictures, and I thought I would be satisfied with that. But over the course of the day, my mind kept coming back to the one depicting Saladin's wars and battles: horses, warriors, puddles of blood. After researching it and finding that it is a traditional Syrian pattern, I pay four-hundred dollars for a small remnant. It was just so striking to look at. And then whosh! another marathon through history: Western Wall tunnels tour—just a much below ground as above—we walk around the city wall, olive trees everywhere, ruins everywhere, burial caves over there, tomb of pharaoh's daughter, City of David excavation, see ancient toilet, learn that David may have invaded the city by having someone sneak in through the water supply which was outside the wall—Gihon spring—Davidson Center, more tunnels, and then Israel Museum. They have a model of how Jerusalem looked in ancient times and also the dead sea scrolls. I never realized this—until our guide told us—that when you are reading a scroll and roll it back together, it opens to where you left off. Steak at Chakra.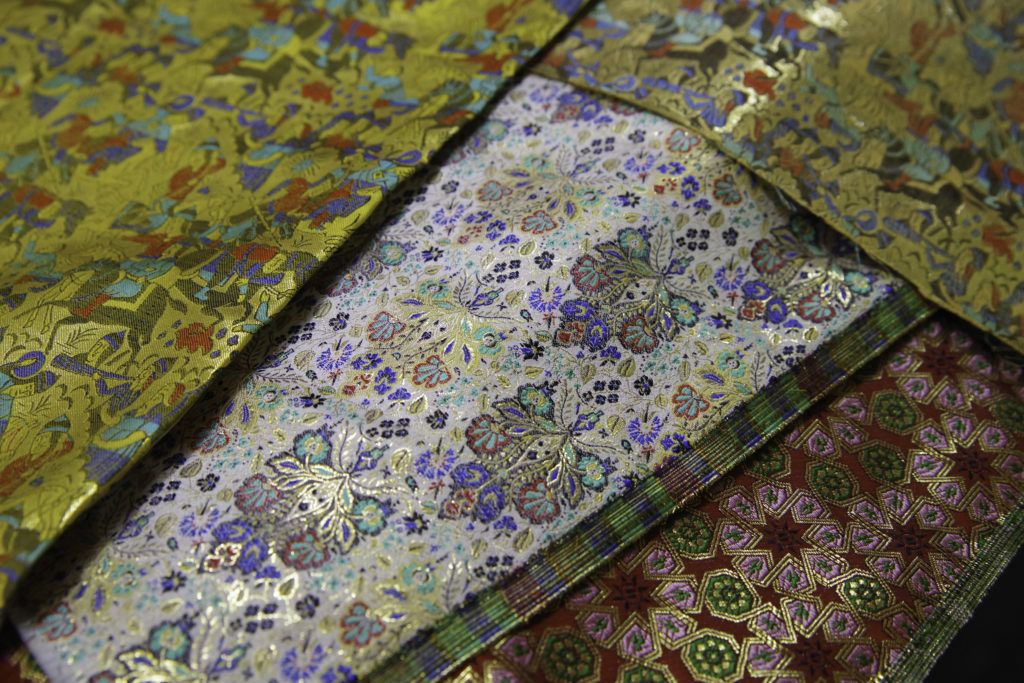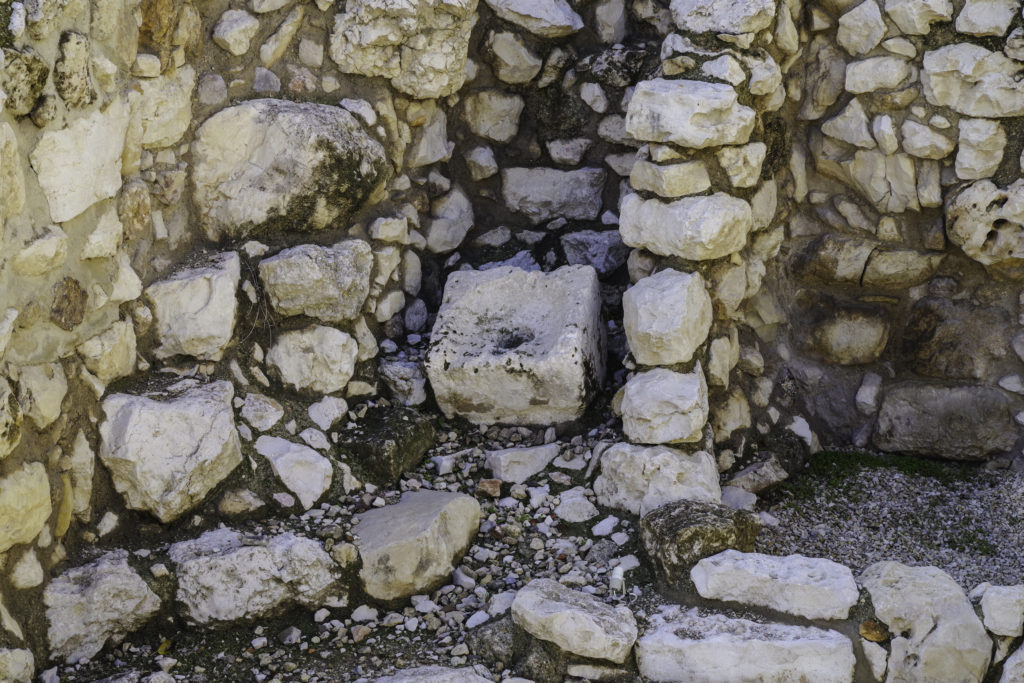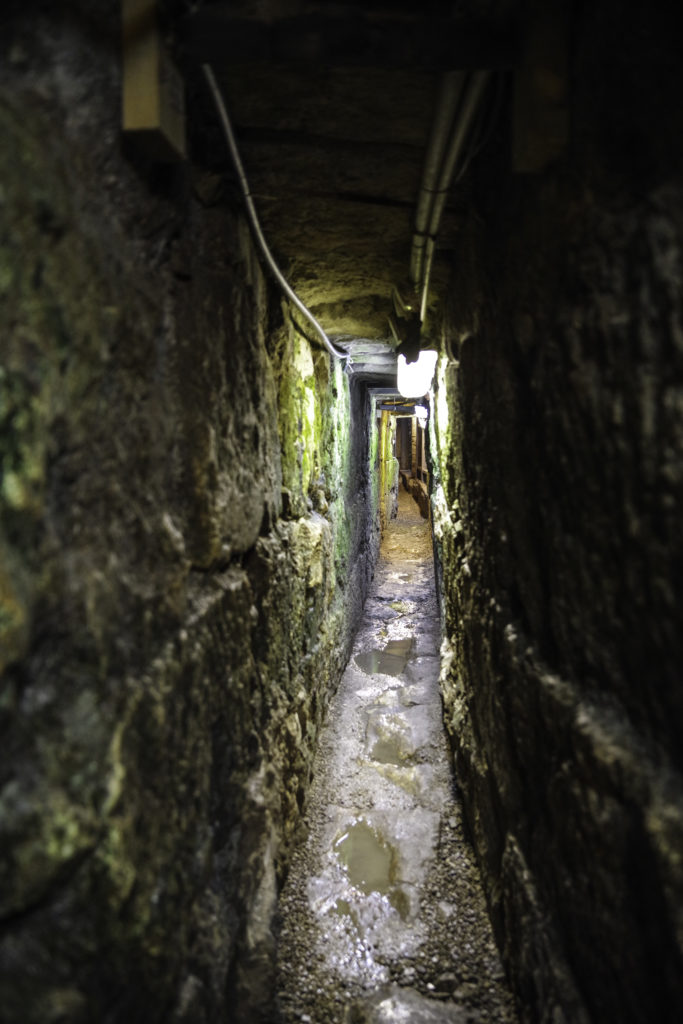 Don't worry, there isn't a terrorist scare. Yad Vashem is crowded with young Israeli Defense Force soldiers. In peacetime, they spend a lot of their required service on field trips learning about their country. That is an excellent idea. Come to think of it, we don't see much security through the whole trip but our guide assures us it's there. The most moving thing I see is a little piece of wax paper with rouge on it; women would put it on their cheeks to try and look healthy so they wouldn't be sent to the gas chamber. Can you imagine being in that position. Our guide tells us that Israelis didn't want to hear about the Holocaust; they thought everyone was making up crazy things. He says it wasn't until Mossad captured Eichmann and put him on trial and everyone was glued to their radios listening to the witnesses that everyone realized to horror of what happened. But one must still eat and so we are off to Mehane Yehuda market for a Kurdish lunch. Yum. Pickles, rice with vermicelli, pita, beef with potatoes, meatball in tomato, Matfuniah soup with squash, celery, Swiss chard. I then buy a tub of tahini which leaks all over everything and $100 worth of really good cheese, but what am I going to do with it! I spend the next week keeping it cool only to have security at the Jordan Airport take it out, touch it with their airport hands and sniff it. They were trying to be funny, I think. Last night in Jerusalem we had back to Chakra for steak and fluffy tiramisu.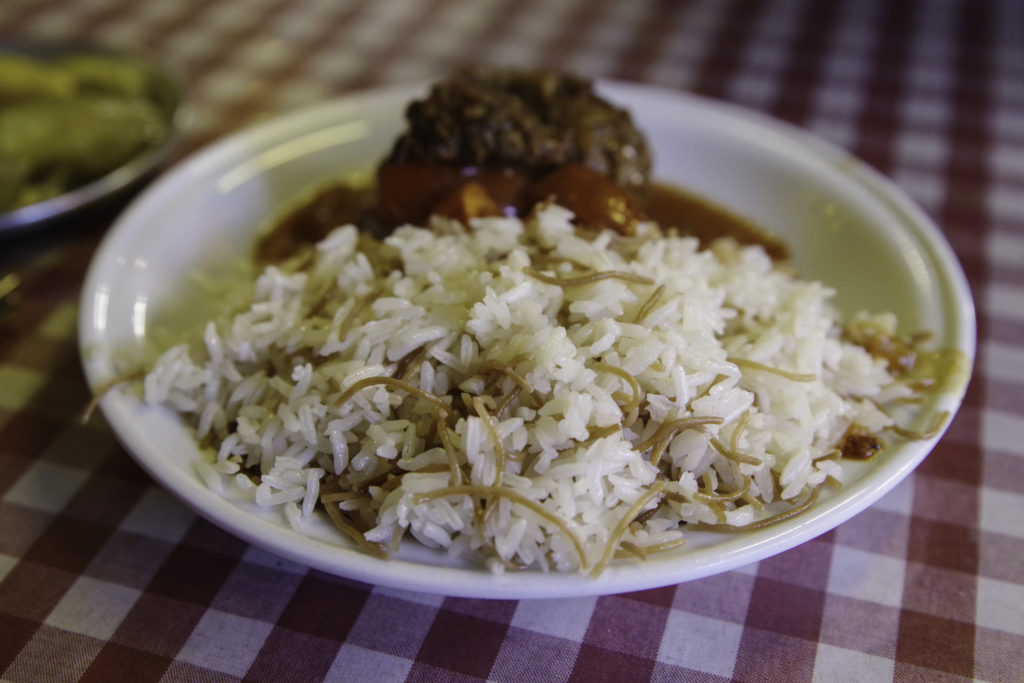 This morning I take pictures of the sunrise over the old city. Watch out for wildlife. I am reviewing my photos when a bird flies into the room. I sit very still and after a few minutes, it flies back out. Today we are headed to Ein Gedi and Masada before crossing over to Jordan. On our way, we stop at a gas station for a camel ride. Because there's camels at gas stations.
Oh, I made a mistake. Salt daggers! In an effort not to take too much, I ditched the water shoes and bathing suits. Because we weren't going to have a lot of time there. And I was afraid I would accidentally get some of the water in my eyes. If I had at least brought the water shoes. Much of it is really shallow but the salt is painful sharp to walk on. The water smells strange and feels slick. We could have rented gear but the resort was really dirty. Onward to Jordan by taxi. The planning company hired an expediter to get us through, I don't know, the Israel side of the border? Then we had a bit of a walk past some large dice and a gift shop into Jordan. There, under the gaze of the royal family, our Visa was processed and our new guide fetched us. It gets dark so early in the winter. We arrive at the Kempinski Aquaba. At the buffet I hear a lot of what sounds like Russian. And women who look Russian. My daughter wants to know how I know what Russian women look like. How do I explain this? They could be Eastern European, I explain.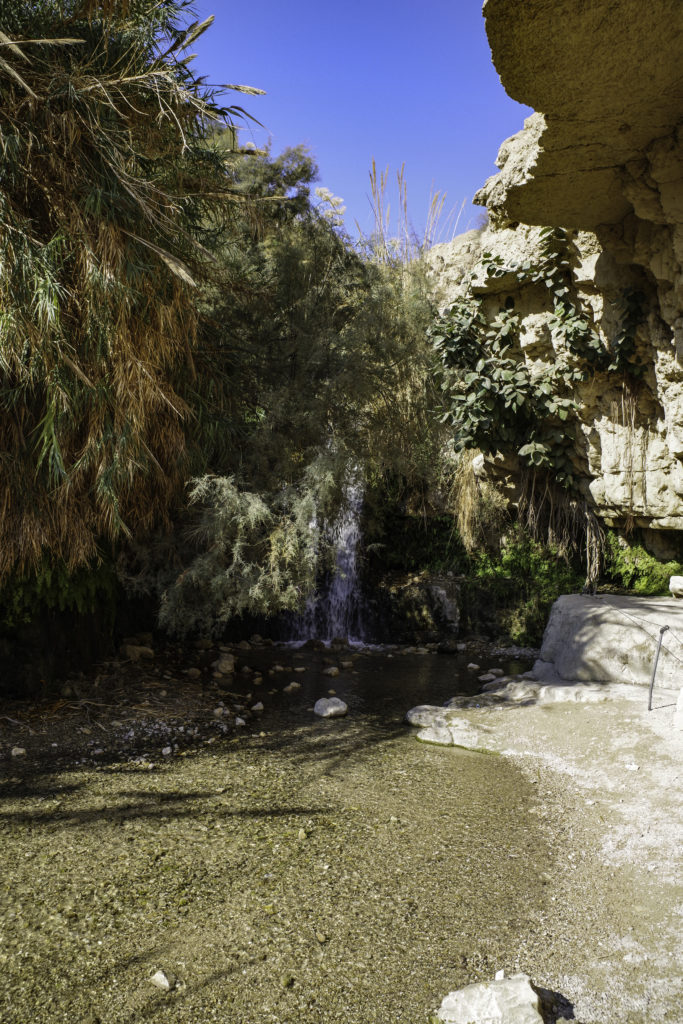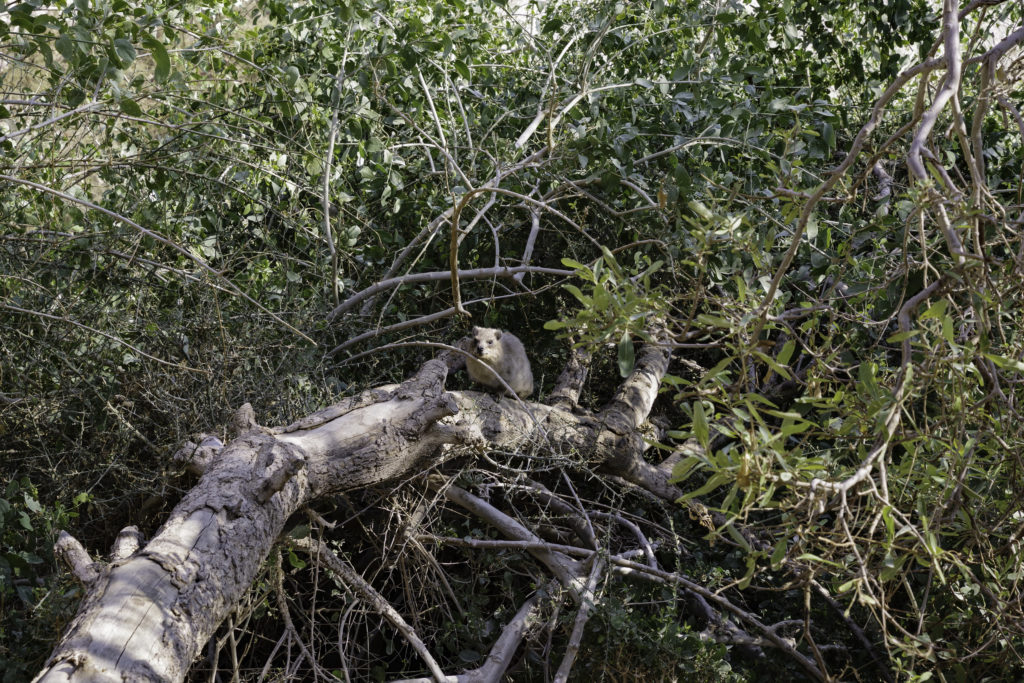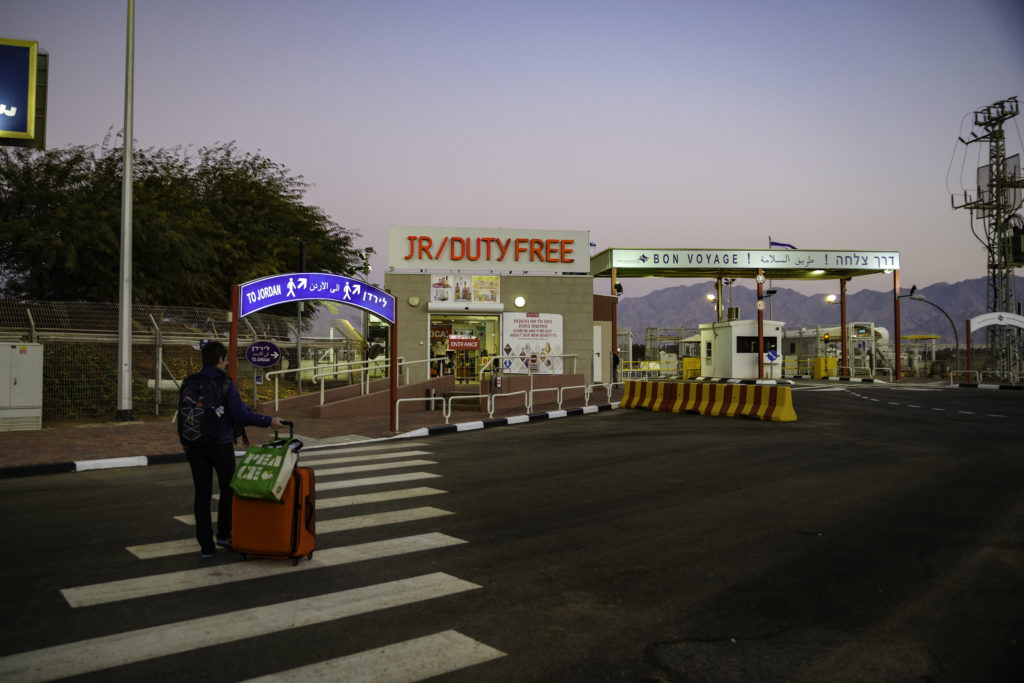 In the morning, I see the Red Sea. It is windy and cold and the water looks rough. I say this because one of our options was to spend the day here snorkeling the reefs, but some of the reviews on Tripadvisor mentioned rough waters in the winter. Looks like it was a good call. Anyways, the last time I snorkeled in Hawaii, the water was pretty calm and warm, but I still got seasick. After the breakfast buffet, we head off to Wadi Rum. I had read about hiking up Jebel Umm Adaami where you look out into Saudi Arabia and the company planning the trip said "sure" and put it on the itinerary. When I share this with our guide, I know immediately we have a problem. He says it's a four hour drive and then two hours up and two down; we wouldn't have enough daylight. He suggests a shorter hike and some sites like seeing petroglyphs. This seems to always happen and I wonder who is not giving me the real story: did the guide just want to do something easier or the travel planner really doesn't know? It is such and amazing place, I quickly forget about the mountain. We hike through a ravine. The dry season is coming to an end and it looks like they've had some rain since the sprouts of black tulips are starting to emerge. Our guide shows us a seed pod from a dried plant; he calls it harmal, I think, he says Bedouins use it for joint pain. I find a bullet casing. We emerge from the the ravine to the utter vastness of Mars; in the distance a little white dot—that is our driver. He comes around and sets up fire for black tea with sage, as I'm sure he has done a million times for tourists who always go on about how good the tea is (because we have never had tea with sage) and how surprisingly refreshing it is in the desert heat (because usually we bring cold drinks into hot places). I take pictures as Jessica and the guide scramble up Um Fruth rock bridge, then into Khazali canyon, a narrow rock passage, to see petroglyphs which look a lot like the ones we saw in the southwest. We walked up rocks for a really astonishing view and then down a sand dune. It was only here and Khazali canyon that there were any other people and even then it was only a few. We passed a few camels before taking in the Anfishiyyeh petroglyphs. There are some camels there and Jessica asks how they keep them from running away and they say most don't but but sometimes the tie their front legs with cloth so they can't walk very fast. We end the day with a late lunch in a tent camp next to a railway. I love the rice.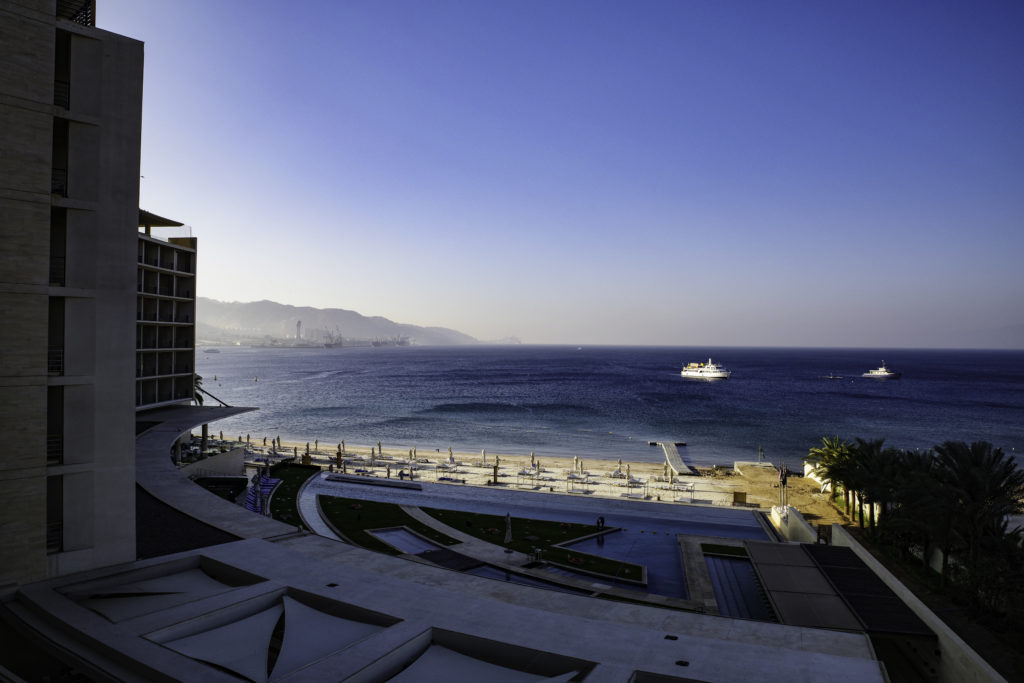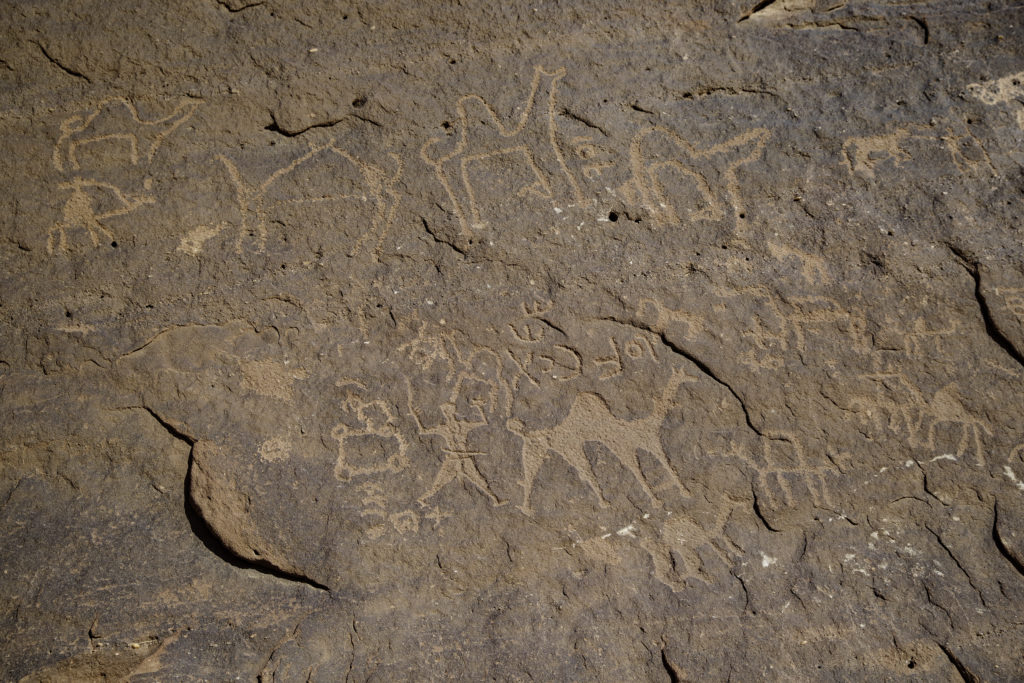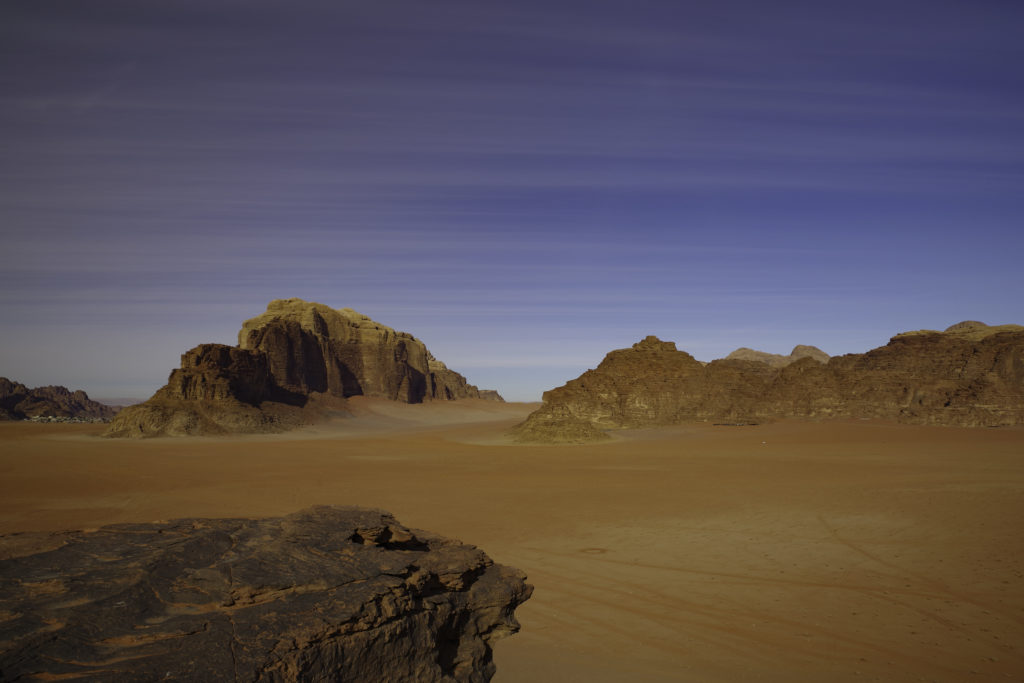 Petra. We stayed in the Movenpick right outside the entrance. For a bucket list sight, there is surprisingly little development around. We learn a lot about Nabataen technology for water handling. There are rain gutters carved into the walls of the canyon and aqueducts along the canyon walls leading to cisterns underground to collect downpours during the rainy season. The Nabataen's were traders of things like bitumen from the Dead Sea used by Egyptians for mummies and Frankincense from Yemen. Eventually the site was taken over by the Romans—peacefully, or so I'm told. And finally the Treasury. It's not very big. Lots of little dogs running around. Cool. They cannot excavate it because when they tried, a piece fell down and sand poured in. Black tulips sprouting up, they will bloom in April. We are now walking down a Roman avenue with columns. I am told: the reason for broken pottery pieces everywhere is from a terrible earthquake in AD 363 everything was destroyed except the the sandstone structures and one Roman building that was buffered by Juniper wood. Juniper was used because pests don't bother it. Would these pottery shards still be laying around like this? There are a lot of tombs. Some have stair icons. Nabataens worshipped ten gods, so five steps on each side for the stairway to heaven. I guess their spirit goes up one side and then the other or splits in two. We then climb up to the Monastary on our own. Not one regular step the whole way. Loaded donkeys coming and going; one gets a whipping. Some dude is showing off his parkour skills on the crown. I see him in some other tourists photos online so he must be a regular feature. Buffet at the hotel. I'm really just wanting a chicken nugget at this point.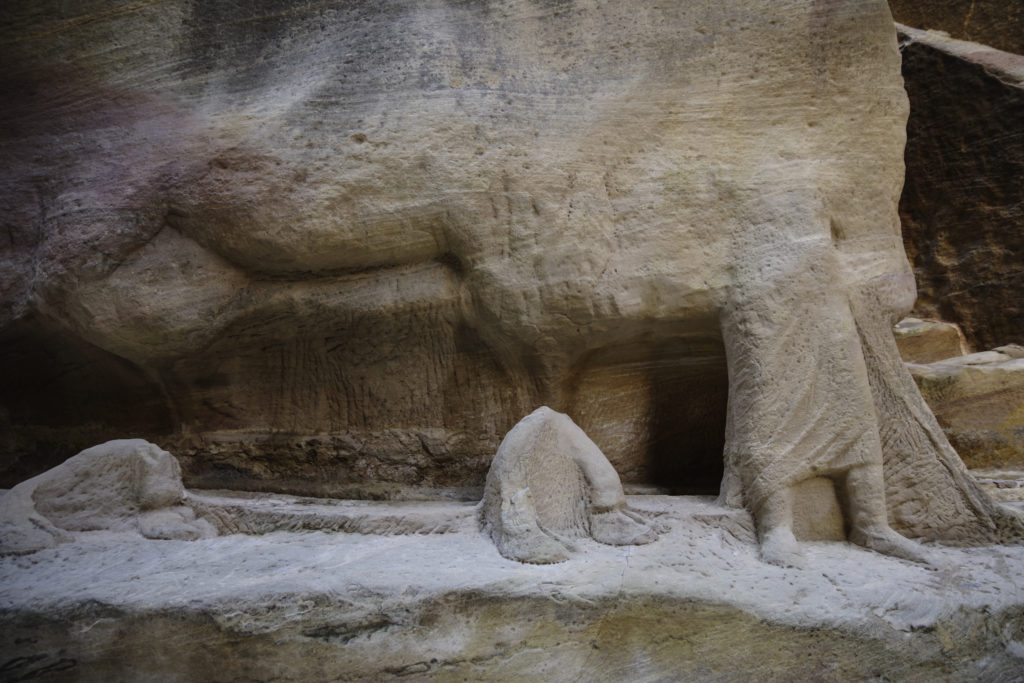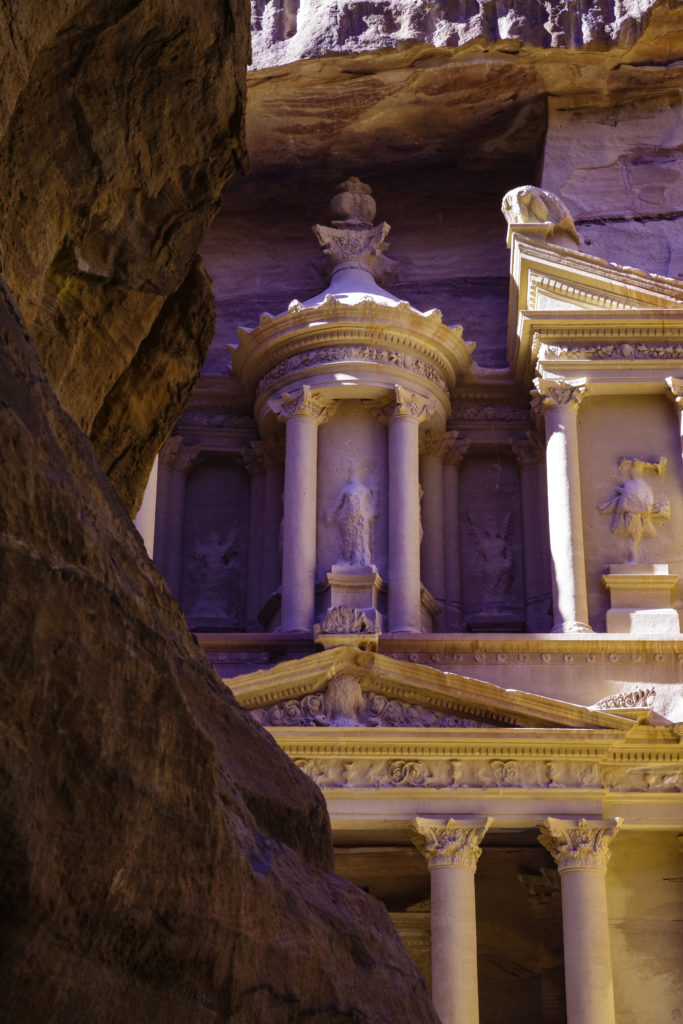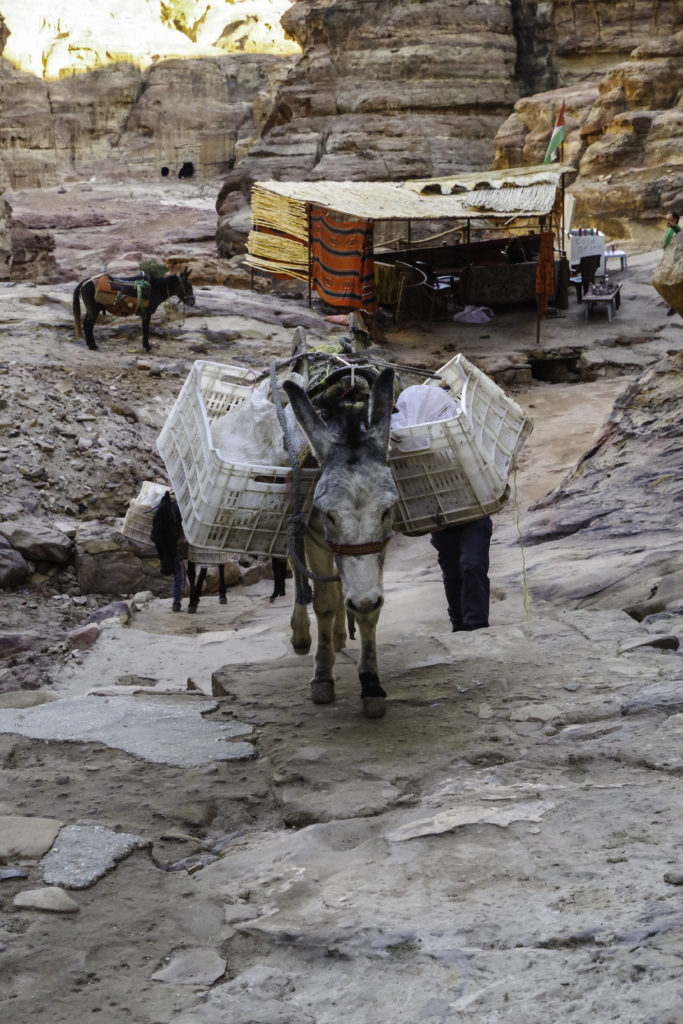 The call of prayer wakes Jessica up. I don't hear it at all. I would just even settle for a saltine. Everything is jammed with spices and nuts. We are supposed to visit the Crusader castle? fortress? Kerak. It reminds me that I thought about adding a visit to Syria back in 2007 when we went to Egypt. I was glad at the time because two weeks in Egypt had us strung out on history. But we will go to Shobek today. Our guide says both look about the same, but Kerak is in a town and Friday was the Muslim holy day, so it would be super crowded. He says the area around Shobek looks more like it did in crusader times. When we get there, there is nothing around for miles. I think there would have been at least a pub around the castle, I mean they needed stuff. There were supposedly two more between here and Petra as the Crusaders were trying to build a buffer around Jerusalem—which was the whole point of the crusades. Shobek was originally a French castle called Montreal. Shobek is its Muslim name. We see stone cannonballs—because metal was too expensive.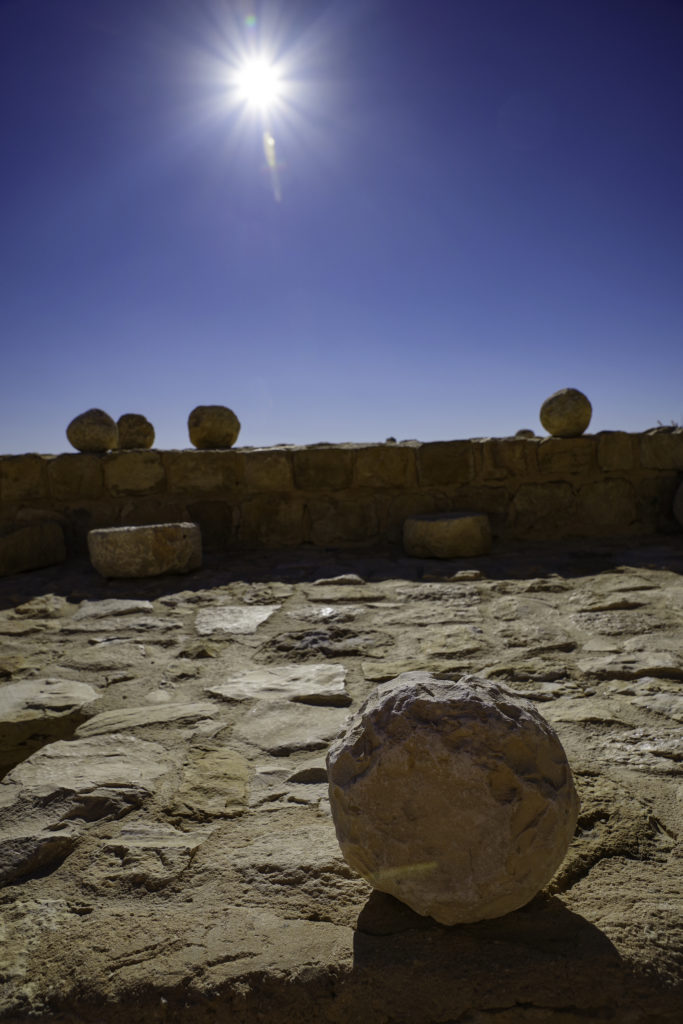 No rest for the weary when a travel planner works their magic. LOTS of trash along the roadway. Phosphate mining in the mountains. Lunch at Haret Jdounda (community grandfather). Baba ganoush and puffy pitas and lemonade with mint. Byzantine church in Madaba with mosaic map of the Middle East. Wow. If it is clear, we will see all the way to Jerusalem from Mt. Nebo. But of course not today! I hope it was clear when Moses was up there to show his people the promised land. There are some beautiful mosaics. Our guide tells Jessica the story of the snake on the staff that Moses showed his people after they worshiped a false god and were bitten by poisonous snakes. The snake goes on to become famous as the medical symbol.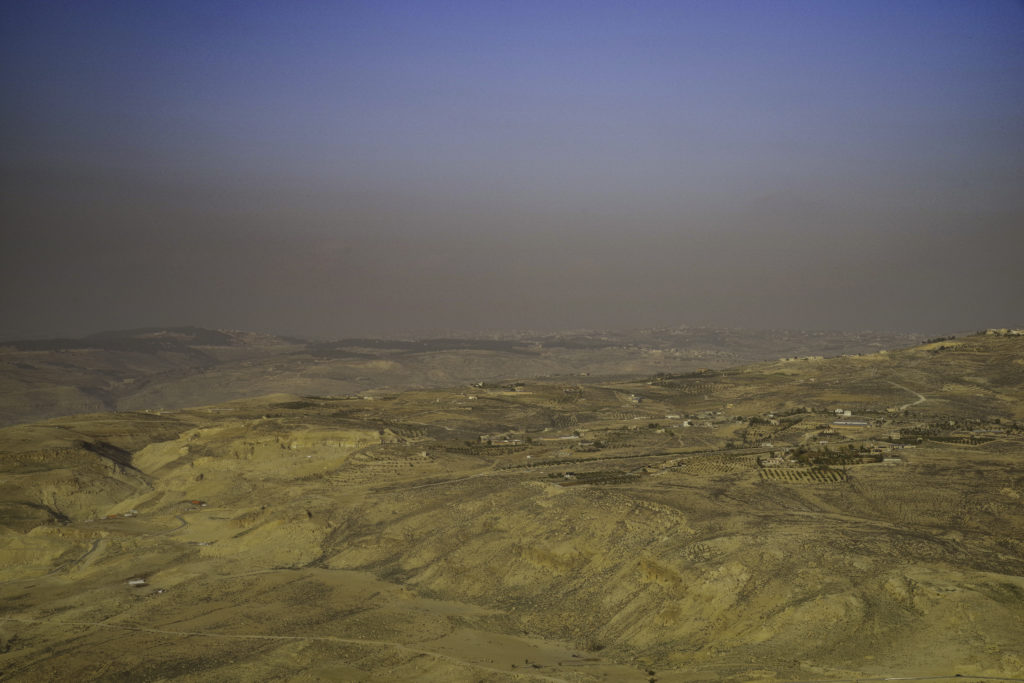 The Rotana looks like the ship in Arrival. It sticks out like a sore thumb in the ancient cityscape of Amman. Jesus, everyone here smokes. I'll have to buy some Altria stock. We have an excellent pizza and mint lemonades at Gusto, the hotel restaurant.
Just two more days. Ajloun Castle is a Muslim fort built to defend against the crusaders. I struggle to take it in, to make it memorable, distinctive. After thirteen days, these fortresses look mostly the same.But this one will be memorable because our guide picked this spot to tell us about the Palestinian view of the conflict with Israel. I didn't ask if he was Palestinian. Islam, he says, is a peaceful religion. ISIS and Al Qaeda do not represent the religion—they hate everything. The Muslim religion, he says, repeats other religions and Muslims, Jews, and Christians have lived side by side in this area for a thousand and more years. Only when politics and religion are put together are there problems. Muslim, Christian, and Jewish religion share much history and stories. He talks about the Palestinian people who were pushed off their land to create Israel. He says just because Jews lived in the area a thousand years ago, it does not give them the right to come here and take it from people who have lived here for generations. I mention America's guilt over the Holocaust as a reason for helping Jews to have a safe homeland and his reply is "then maybe give them a piece of Germany."
We head to Lebanese House for lunch. Lemonade with mint! Jessica tries a pickled almond. There are pickled lemons on the table—they are grey. Pudding! Milk, sugar, cornstarch, rose water, mastic gum.
I will not struggle to remember our next site: Jerash. Called Philadelphia (city of brotherly love) by the Greeks, it is huge. Walking through the streets and public spaces, it still feels like a city. Founded by Alexander the Great, it was later taken over by the Romans and our guide says we know this because the theater faces north so the sun is never behind the stage. "They think of every little thing," he says. The Greeks performed on the center floor, the Romans added stages for better acoustics. The seats are also numbered.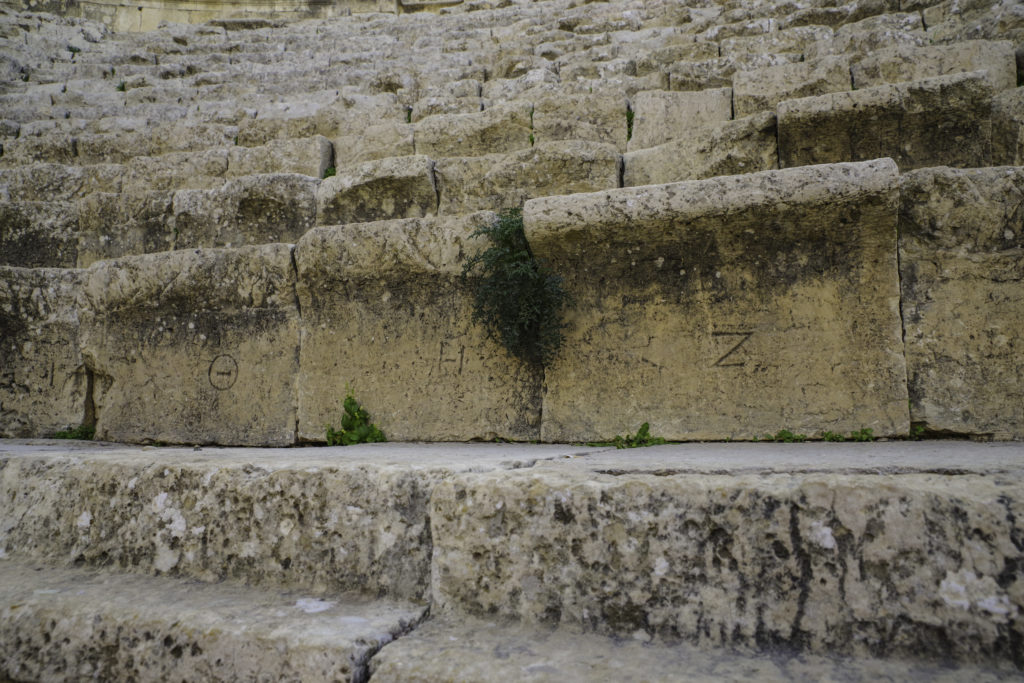 I spend $300, cash only accepted by the planner, dollars for us to be able to stay in room until 11pm so we could have dinner, shower and rest before our 2:15am flight. I know rooms at that hotel don't cost anywhere near that but I manage to avoid aggravating myself by looking at prices online.
Our last day was spent in Amman. We visit the Citadel overlooking the city. It has been occupied since Neolithic times, but what's visible now is mostly from Roman times. On site is the Jordan Archaeological Museum. This is a small museum with poor signage that doesn't allow our guide to show us around. The collection spans thousands of years. We head into town to see the Roman theater and the Folklore Museum, which is about local cultures. Again, no guides allowed. I need context or it's just a lot of interesting looking stuff.
Before we wander around town, our guide wants to share some thoughts about Islam and women's rights. He says that having multiple wives stemmed from a time when wars caused a shortage of men. Women can divorce and must willingly sign a marriage contract . The man, he says, is responsible for taking care of his family and their happiness. Women are exempt from from having to pray in the mosque for many reasons. I don't know. It would be good to hear a woman's perspective.
We walk around the markets in town. I see a small hotel that looks nice and new. I would have rather stayed in town. We stop in a store and for $20, we get an enormous stash of black tea, dried sage, olive oil, and soap. We try knafeh—a hot goat cheese dessert with a crispy sugar top. Interesting. Our guide then takes us for tea at some strange place to look out over the street scene while he smokes a water pipe.
Our usual driver picks us up for the airport. He has teeth like a lion and he's overly friendly. I don't know. The airport is new and beautiful but then security starts going through all my stuff. They take out my sublingual allergy drops and open them, they open the cheese I got in Israel and breath on it making some joke. Good lord they are stressing me out. Then one of our checked bags doesn't arrive back with us. Tracking says it never left Jordan. Why am I not surprised? All my good stuff is in that one. Online, it says if you don't get it back within 24 hours, it's probably gone, but two days later, it does arrive by messenger.